It's yuzu season! When my sister starts giving me
yuzu
, I know it's official: the holidays are here and yuzu is in abundance to help me cope. Berkeley is the queen of Meyer lemons, but I'm beginning to think it's also one of the best places for someone to grow yuzu as friends and family are dealing with yuzu surpluses and searching for recipients.
One of my favorite desserts to make with yuzu is 
kanten
. Kanten is a jelly-like substance made from
agar agar
, or algae. It's less sticky than jello and is completely vegan and gluten free. Since it has no taste, you can add jams, fruits or flavoring to it.
In this recipe, I used three fresh yuzu, if you don't have yuzu, you can use lemons, tangerines or any other citrus that's in season in your area.
YUZU KANTEN
Ingredients:
1 four-gram packet of kanten
2 cups of water
3 fresh yuzu (can substitute with lemons or tangerines) that are approximately 2.5-3" in diameter
2 tablespoons of sugar
2 tablespoons of honey (substitute with sugar is you want to make this vegan)
Method:
In a saucepan, combine 2 cups of water with kanten at room temperature. Mix with a wooden spoon and turn the heat on high.
While waiting for the water to boil, using a grater or microplane, zest the outer skin of the yuzu. Zest gently. Zest only the outer layer of the skin where there is the most oil.
You should have about a teaspoon or two of zest from the three yuzus.
After lightly zesting the citrus, cut the yuzu in half and juice the halves.
Let the water and kanten come to a rolling boil for 3 minutes.
After 3 minutes of boiling, bring the heat down to low and add the yuzu juice, zest, sugar and honey.  
Pour into the
Easy Removal Dessert Pan
aka Kanten Tray.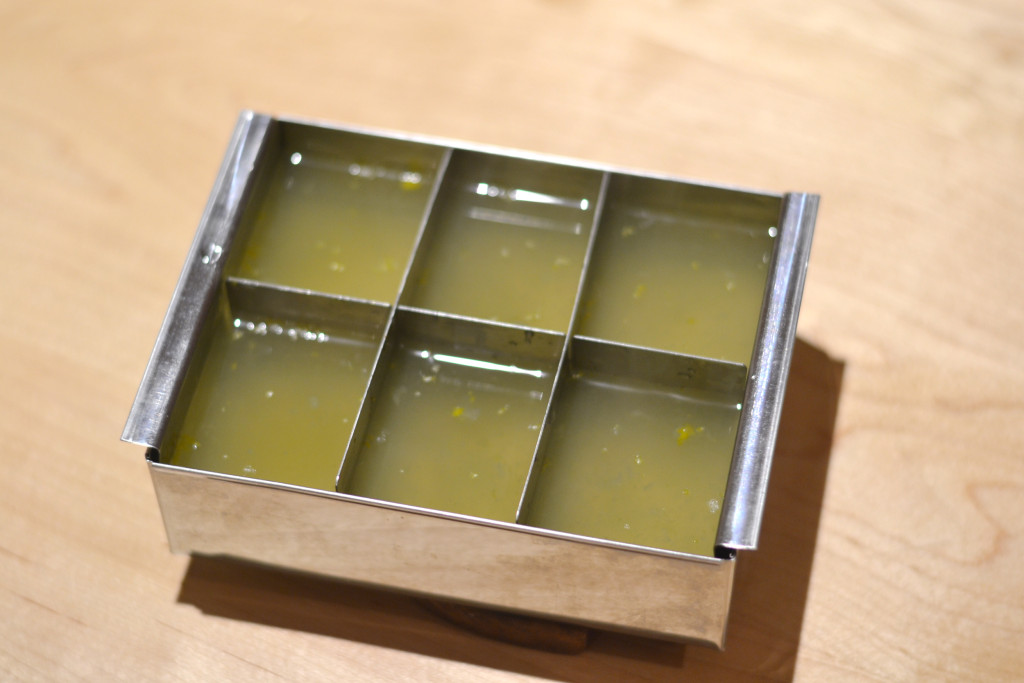 Let cool on countertop for 20 min, then put in the refrigerator.
Leave in fridge for at least 2 hours and it's ready to serve!
Celebrate the season of yuzu with this kanten dessert!