MOTO Restaurant Review: Eleven Madison Park (NYC)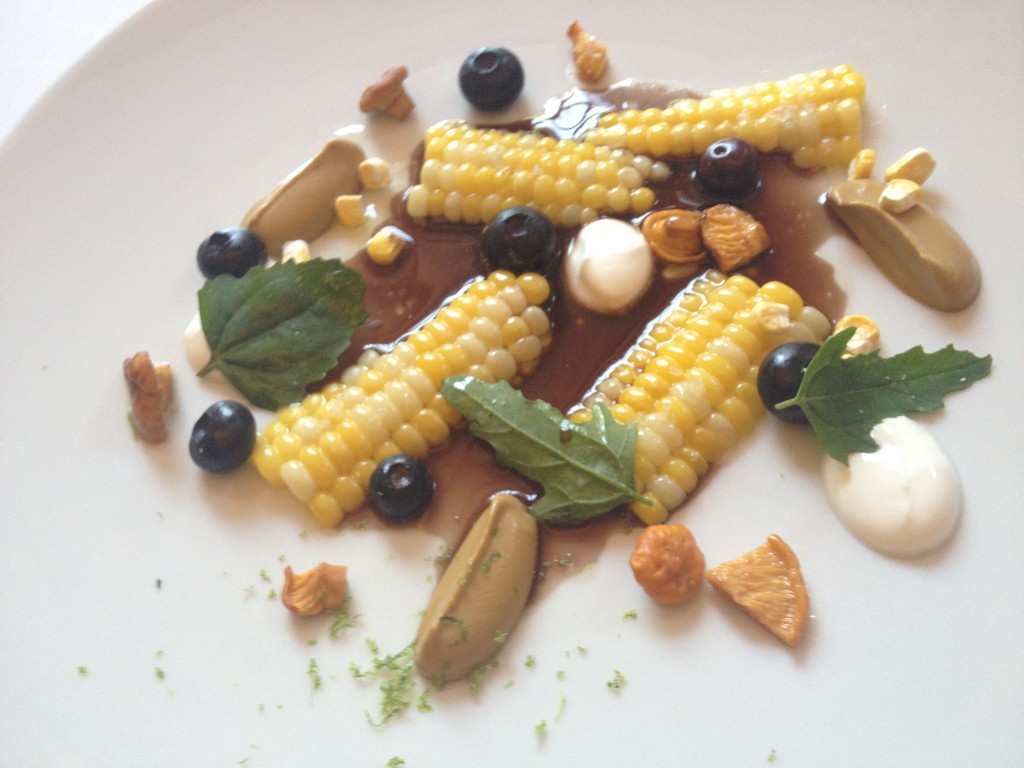 Though I created such a scene when I wrote about a
certain four-star restaurant
some time ago, I must write about my experience at
Eleven Madison Park
. Why?  Because it was above and beyond my expectations, and made me fully understand
Daniel Humm
's genius-ness. Plus it was lunch, over a glass of wine, hence I still remember what I ate. Furthermore this was the last chance to eat the restaurant's "regular" food before they venture into molecular gastronomy. If anyone can succeed in molecular gastronomy in NYC, that would be Humm.
The experience was whimsical, bold, fun, nostalgic, and super delicious. The menu is also pretty creative -- rather than giving you the full menu, it makes you think. Check
this
out. This wasn't the exact menu we had, but you pick an ingredient from each line and you will be surprised by Humm's creations.
First they brought a box of black and white cookies.
I've actually never had this "traditional New York cookie" since the size is usually as big as your face and you never know how long they have been sitting next to deli's cash register.
But looks can be deceiving. These were tiny versions of a cheese cracker in the shape of black and white cookie.
What a clever way to start a wonderful lunch.
Cheese crisp with a bit of red pepper for kick. Very crispy.
The crisps were served with tomato tea with a tiny bunch of thyme.
Holy god. Again, it looks like regular tea, but tasted like a very strong tomato without any of the usual tomato coloring. My senses are wide open after this refreshing tea.
Goat's milk butter.
More butter.
Both butters are made with local goat/cow milks.
Foam! Egg custard with raw sturgeon, with chive oil on the bottom.
It wasn't gimmicky at all. And the chive oil was so flavorful, yet did not overpower the palette.
At this point, we are all like, I want a dozen of the black and white cookies, a gallon of tomato tea, and wanted to dive into the egg shell to swim in the heavenly egg custard.
And we haven't even started on what we ordered at this point. This was crazy.
FIRST COURSE
Main ingredient: beets. Looking very cool.
Since my stomach cannot handle beets (I am not bitching, I am just stating it gets
very ugly when I eat beets
) I didn't taste this, but it was apparently heavenly.
Main ingredient: foie gras. Pan-seared foie gras covered in pickled radish, with a pork-based broth. It was only about two bites of foie, but man I fucking savored these little babies. The pickled radish was refreshing, plus the soup had a very deep flavor. My insides were crying out with joy at this point.
I feel sorry for California people. I don't think I can ever live in a place where foie gras are illegal.
Main ingredient: lobster. I don't know if you remember that I've had 
various
posts
on lobsters, but at the end I decided I don't care for lobsters. But this was a different lobster.
So soft, and flavorful, not chewy at all. I think grainy bits were mustard. Brilliant.
Main ingredient: corn. Sweetest corn E V E R!  Plus they are smoked.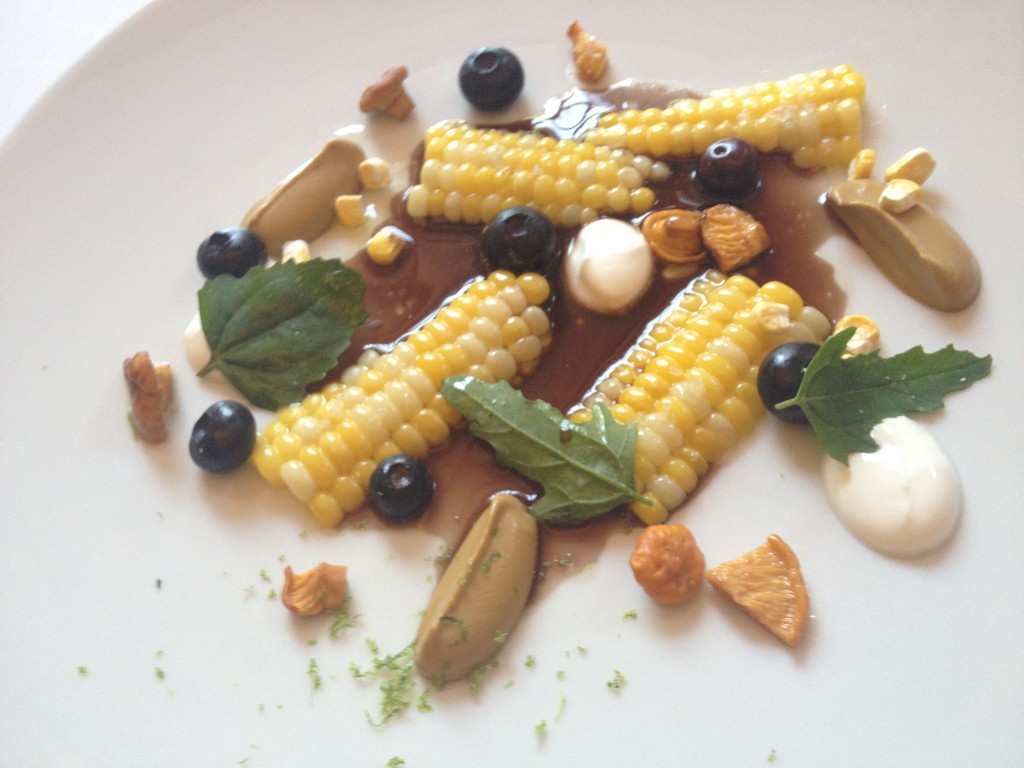 Who pays this much attention to corn? Seriously.
Main ingredient: poached fluke and lime oil with cucumbers and coconuts.
So refreshing, fish was poached perfectly.
MAIN COURSE 
Instead of choosing main courses individually, we chose the signature dish for the entire table. Aged roasted duck with lavender, honey and sezchuan peppercorns.
The duck's ass was stuffed with lavender!  Waiter carved this table side and served us.  It must be nerve-wracking when customers are staring at your carving skill (which were pretty good, he knew what he was doing, unlike at next table where the girl must have still been new to the carving business).
Apparently the breast is the only part that gets flavor, moist, and texture, from the drying process, and thighs and other parts get dried up and can't be served. In order to keep the boobs moist, they sacrifice all the other parts.
Hail to boobies! Crispy on the outside, very juicy and tender inside. Just the way we like it.
At this point we were full, satisfied, hugely impressed, and sad to finish the last bite. You know the feeling. Absolute satisfaction.
Yet they have to keep surprising. Egg cream, supposedly NY signature drink. There's no egg, or cream, but somehow it's called egg cream.  Made with milk, infused with cocoa, orange syrup and seltzer water. Of course the soda was poured from a vintage seltzer bottle.
Deconstructed New York-style cheese cake.
The pink is frozen pomegranate. Cute, molecular gastronomy-esque.
DESSERT
Main ingredients: dark chocolate. A lot of crunchy this and that, and chocolate covered lavender ice cream. Ice cream was a bit too strong in lavender flavor. I felt like I was eating hand lotion.
Main ingredient: milk chocolate. I didn't taste much of this plate.
Main ingredient: malt. Salty, sweet, malt, crunchy, and definitely a surprise.
The yellow sauce is honey mustard. Amazingly good.
You start the meal with black and white cookies, and you end with black and white cookies.
These had a good orange flavor and were sweet.
Come to think of it, this menu was totally a prelude to Humm's new molecular gastronomy venture. It included foams, deconstructed this and that. I've had memorable meals at various places, but I now know why this place is so acclaimed. The service was superb: no rush, hospitable, knowledgeable waiters. Decor was very art deco cool. Not stuffy at all. Everything about this restaurant screams with perfection.
It's been two weeks since my meal, but I am still salivating just thinking about all the courses we had.