Skankynavia: California Workin' + Chowin'
In the spring of 2012 I suddenly felt the urge to not spend a depressing summer in Copenhagen.
Previous years had been a mixed pleasure of monsoon rain, heavy floods, grey skies and Antarctica beach temperatures. I seriously needed a shot of California.
Coincidentally the ever food-obsessed Umami Mart team decided to open a shop and hired me to design it. And so the summer was laid out for two things: workin' + chowin'.
There's already been a massive writeup about the shop, we even made Monocle, Selectism and
Design*Sponge
which catapulted the hits on this website into space.
But I'd like to blog about all the stuff we plowed through besides all the
slimy, delicious fast food
during the build out and afterwards, so here we go!
RICKY'S FISH TACOS 
LA: Just landed in LAX and with no hesitation we attack the nearest hipster Mexican popup street vendor.

The entire taco operation under one tent.

Two fish tacos topped with cabbage and tomato. A delightful "Welcome to America" snack.

DIN TAI FUNG
After waiting over an hour in as the only white man in a huge crowd of Chinese Americans in the valley, we finally had a seat. Kayoko and her brother Keisuke ordered basically everything on the menu as usual.
Dumplings are made on the spot behind a glass wall next to people waiting in line for a seat. Everything was fresh and juicy, exactly how Chinese food should always be (take note, Chinese "restaurants" of Copenhagen!)
Ecstatically hyped and excited after not sleeping for over 26 hours, while waiting in line with DinTaiFung-chan.
SQUARE ONE DINING
Breakfast sandwich with salmon, omelet and salad. The cafe was right next to the official
mothership of Scientology
, a bathroom green painted Fort Knoxx where all windows were barred and sealed, go figure.
Tom Cruise has probably eaten at this breakfast place many a time while scheming ideal marriage victims and how to take over the world.
HONDA-YA
After a long wonderful day at Universal Studio, we have dinner at the izakaya Honda-ya in Little Tokyo. We're drinking chu-hais with an umeboshi for extra bite.
Homemade tofu. Squiggly and fresh.
On our way back to the Bay Area we stopped by Santa Barbara, the town where the UM editor spent her college years watching Daria and getting skanky.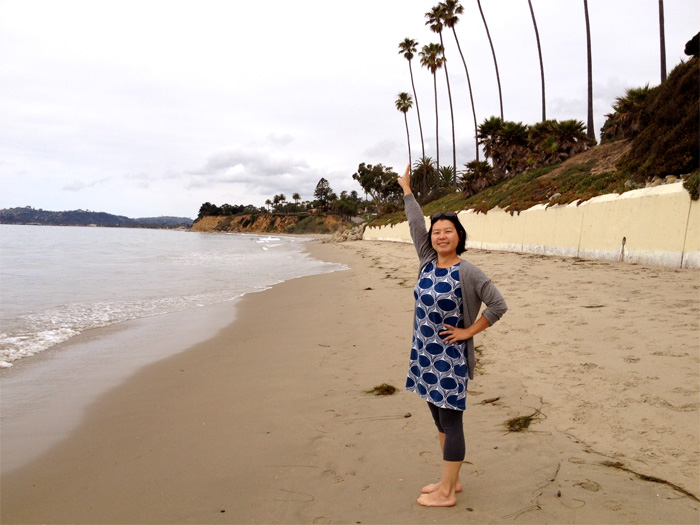 The editor showing how the beach slut routine is done.
Right next to us a wedding was taking place right there on the beach, white dress and everything. Tackyness alert! Also, the weather was windy and overcast. Is there anything more depressing than grey cloudy weather on a beach? It's like a gay parade with rain and crying drag queens. No one wants that.
So we left those sad people alone and went for a trendy, overpriced Mexican lunch.
LA SUPER RICA
(622 N Milpas St, Santa Barbara)
Santa Barbara is a residential town full of decadent beach houses, flag ship store-filled shopping streets and people with too much money. That didn't scare away the cheap plastic chairs in this place though, it is after all an authentic Mexican restaurant, it's part of the mandatory vibe to look like you're just hanging out at mama's kitchen in the backyard of a small village out in the desert. I think the loaded peeps like that -- feeling like normal people for half an hour or so while slurping down that spicy, special salsa.
My chicken sopes with cheese and avocados
We took the scenic route up to the Bay Area. Back in Berkeley!
CAFE LAILA
Every morning I had breakfast here, which was located a stone's throw from my rented Berkely bungalow.
Cafe Laila exclusive interiors: Are there any cafés in the US that do NOT have a rustic brick wall?
Their outdoor garden behind the cafe was just wonderful to sit and read in every morning below the blue sky.
Homemade granola with fresh banana, Greek yogurt and a macha tea smoothie...
...Or Greek omelette with home taters, corn bread and fresh fruit + cortado.
Or organic breakfast burrito with raspberry banana smoothie + cortado. I'm reading the world's best interior magazine
Apartamento
.
The burrito contains tofu, tomatoes, mushrooms, avocado, spinach, onions and fried taters. A healthy way to start the day.
Burrito crotch shot
SPICES 3
Late night after-work Chinese food: chicken soup with vegetables.
CAFFE 817
Breakfast (before another day of driving to Home Depot and back) at Caffe 817 in Oakland which is located right behind Umami Mart's parking lot.
We're mingling and being seen among the locals, trying to make an impression by dressing slutty, making cute Japanese hand gestures and reading Apartamento.
No one gives a shit.
Later on I take the BART train to the Japan Town neighbourhood of San Francisco. Soko Hardware (sign visible in the picture) is a great place with lots of Tokyo
oji-san
 vibes.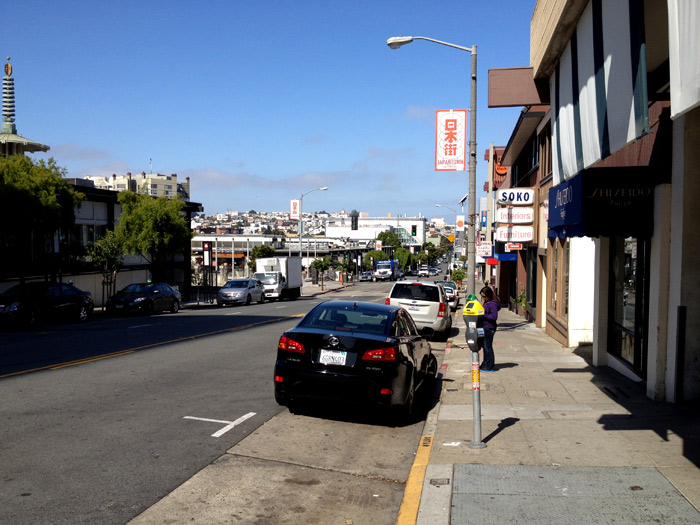 The big mall it self is kinda interesting with a massive load of restaurants with real roofs popping out from the walls to mimic a Japanese countryside village.
Comes off as kinda tacky and cheap though. Everything's metal and plastic and doesn't feel in any way authentic. It's just a mall with a Japanese decor theme. But people are really nice and helpful and everyone seems to know each other's shops and items.
I lunch at a random place and get an acceptable bento. But I've had better.
BATTAMBANG
(850 Broadway, Oakland)
For dinner we eat at the Cambodian restaurant right across the street from the Umami Mart.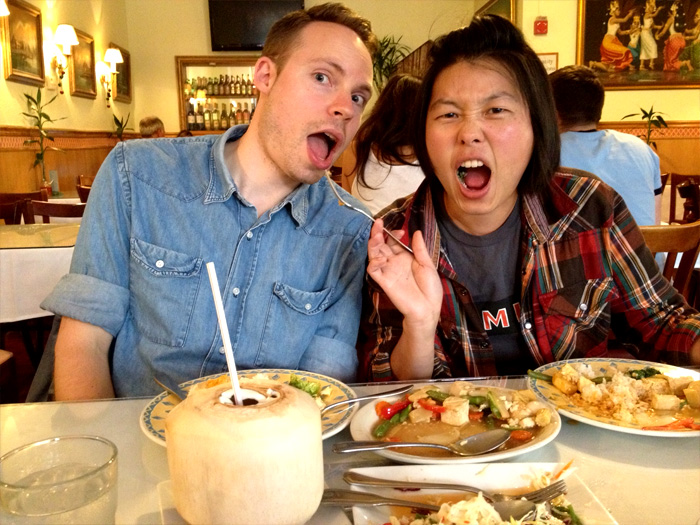 After my visit to Bangkok last year I've completely fallen in love with fresh coconuts.
The editor seems to agree: Sucking sticky juices out of big hairy nuts is just heaven.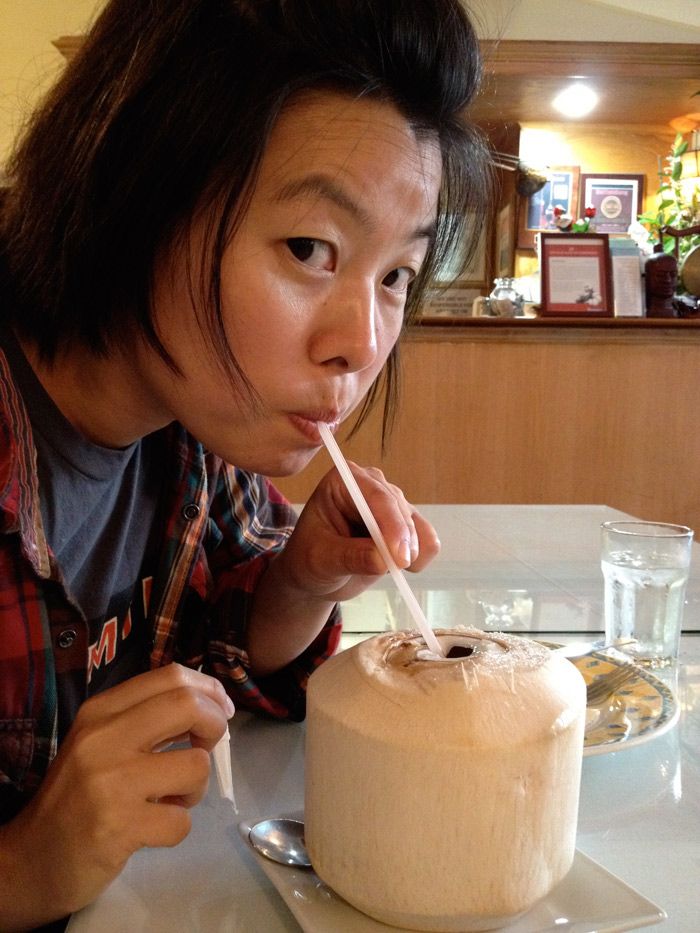 Dessert: fried bananas with homemade coconut ice cream!
They garnished the plate with an orchid. How exotic on a Tuesday night.
Another night we go to the Grand Lake Theater in Oakland to watch the new Woody Allen movie (verdict: he's getting old).
Afterwards the editor prepares delicious vegetarian lasagne at her place right across the cinema.
Observe the cork stoppers in the window -- one week's worth of redwine bottles.
ZAKI KABOB HOUSE
Went to dinner with Yoko, Washi and Cindy for Middle Eastern fare. This place is known for their chicken which was super moist and tender.
SHANGHAI RESTAURANT
(930 Webster St, Oakland)
Dinner at the local salmon coloured Chinese restaurant.
We lunched there several times during the build out. It's fresh, fast and hella CHEAP!
The
big opening day has come
. The band is setting up outside on the right. On the left Kid Skwid presents his hot barbecue servings.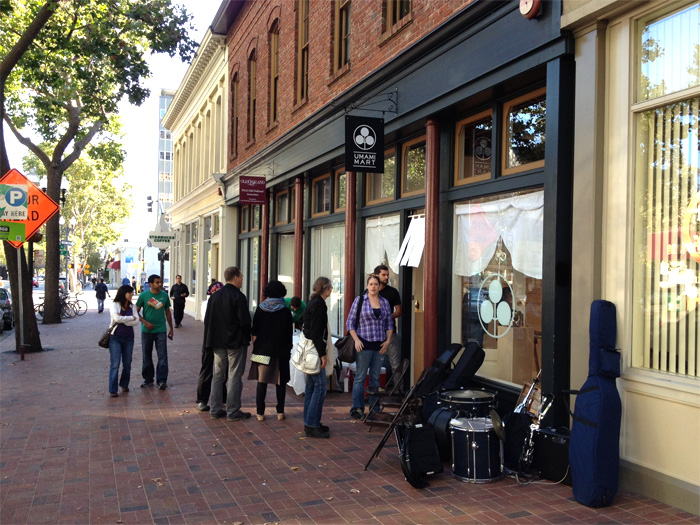 Alfonso of Popuphood rolls by on his taco bike and sells super cute and fresh street tacos.
The sake cask is emptied by Crazy Japanese Yakuza Guy.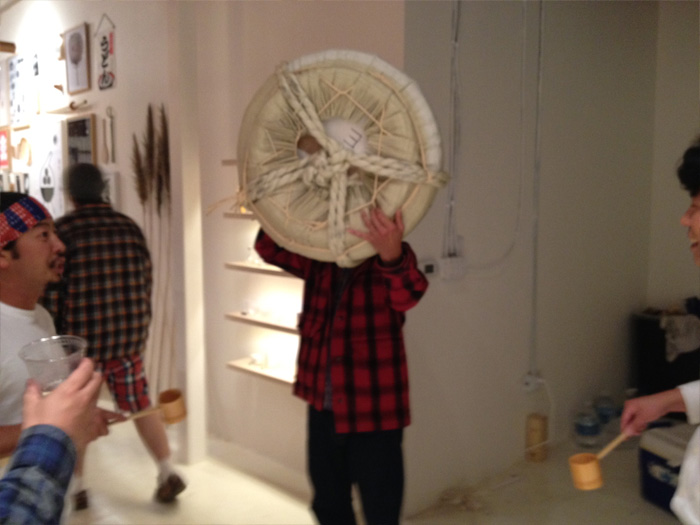 KIRAKU
Late night celebration at the Berkeley izakaya. Fish stomach cut up, roasted and served on its bodily remnants along with lemon and home stirred mayo. Delish!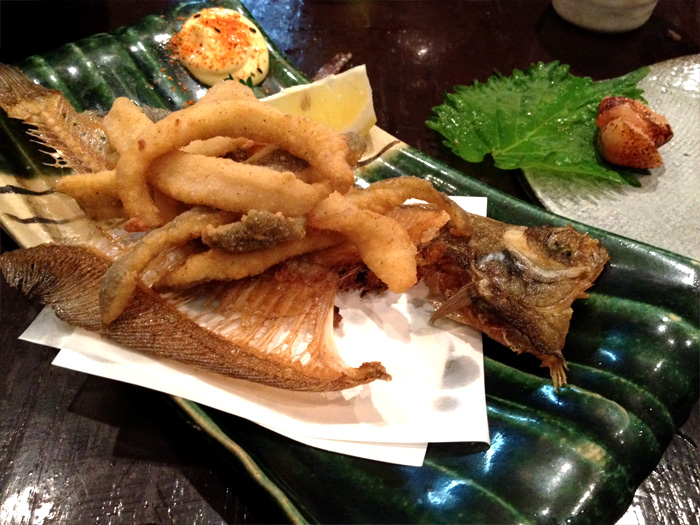 TOMALES BAY OYSTER COMPANY
One of the best summer 2012 memories.
The rugged outdoor picnic area is situated right next to the water. Super relaxed, no fine dining here.
We set up the gear. Kid Skwid works as a chef at famous Hollywood restaurant Spago (the place Dylan and Kelly always went to eat in the early seasons of Bevery Hills 90210 - that's how classic that restaurant is).
Anyway, for the 6-7 hours we spend at the oyster beach the Skwid does not sit down for one minute. He breaks open oysters, barbecues them with different spices, chops, prepares and serves fantastic little bombs of juicy shellfish flesh to everyone.
Bam! A bag of fresh oysters!
The Marin County sun beams into our foreheads as we wolf down the treasures of the sea.
SUSHI KUNI
Evening trip to Cupertino at Sushi Kuni -- the editor's parents' local sushi restaurant. Many employees at Apple stop by here for lunch every day.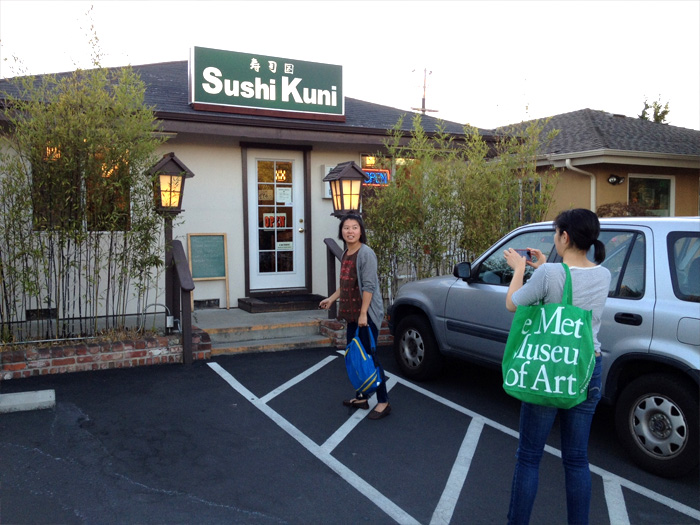 Kayoko's dad had prepared a feast of another world to celebrate his daugher's first business. And we were the lucky co-riders.
Fresh homemade gyoza with assortment of side dishes!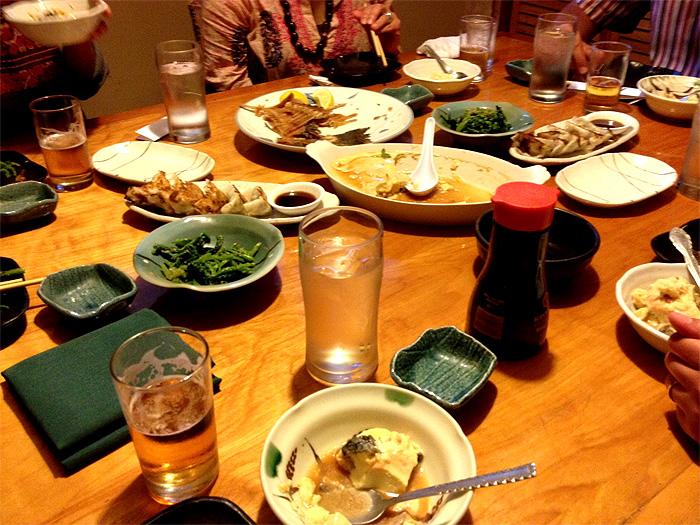 OMG sashimi orgy!
Marinated roasted duck!
Tender, sweet and full of umami.

Huge whole soy marinated fish with chopped ginger.
And the great finale: Sushi galore! All handmade by Mr. Kuni himself. There was not a dry eye or an empty stomach in that little room.
And then: more food, of course! Fish soup with somen noodles.
Dessert: Fantastically crunchy, sweet and slightly zesty lemon creme brulee, also just made that afternoon by Mr Kuni.
Amazing.
I want a dad who can cook too!!! Thank you, mr Kuni - it was a feast we remember with joy.
Later that week we took a Sunday daytrip to Woodside, a forestal area outside Palo Alto (ex-hometown of the late Steve Jobs).
We were invited for one of the famous Forest Feasts at UM staff writer and professional food photographer Erin Gleeson's home.
A magical 1970's rural hippie treehouse in the deep woods of California. As we left the lowlands and drove into the green forest of Woodside, the smells of pine and sunshine was just incredible. And so is their house.
Going all the way down the facade is a balcony looking out into 30 km of national forest reaching the Pacific coastline.
A true Forest Feast. Everyone brought a little something they made to place on Erin's already boasting table of delicacies.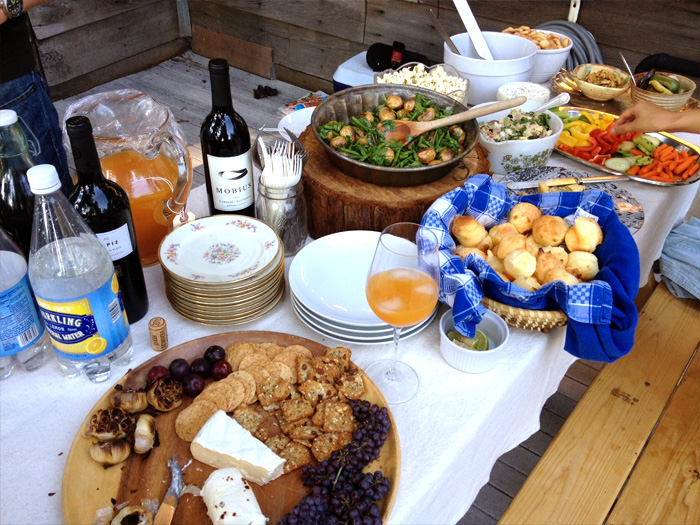 Mike's cheese-filled Brazilian cheese buns on the right was an intense joy. It's bread, but the dough is cheesy - and you can't stop eating.
I'm inside looking up a recipe in my iPad that I posted last year on UM:
Strawberry Pavlova
. In Silicon Valley you don't use cook books, you use the iPad, of course.
Johnny gives a helping hand in making dessert. Mike peers in, waiting for that dessert.
Champussy on the balcony!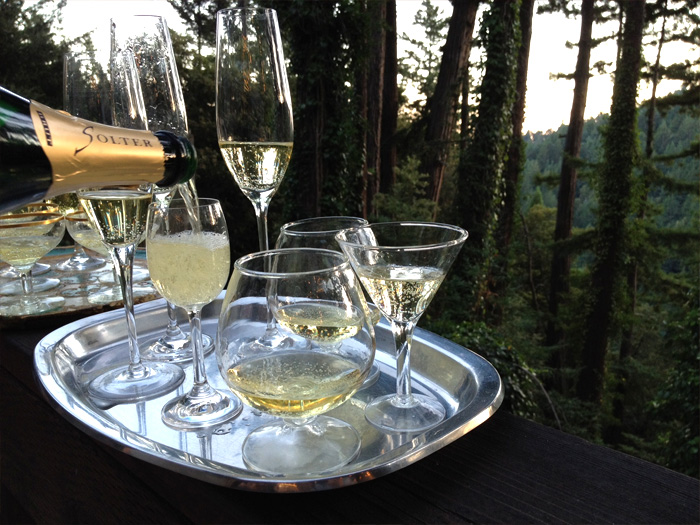 Love the hanging lights -- so romantic. Later on people did traditional American square dance on the balcony while sampling moonshine. True Americana.
Next morning: A Japanese homemade breakfast feast. Raw egg on freshly steamed rice.
Yoko made a fresh breakfast salad, rice and marinated 
saba
(mackarel), while Washi and I made miso soup.
I love Washi's morning do.
Redwood forest hike.
Another night we went out in San Francisco.
KIRIMACHI RAMEN (450 Broadway St, San Francisco)
This ramen popup is in an old 1980's club with mirrors and red paint on the walls, right next to a mountain wall. Very odd place.
But the ramen was nice! Pork ramen with marinated egg traditional style.
Afterwards: a cheap and huge martooni at
Martuni's
(!) before dancing in the Castro.
Lazy Sunday in Dolores Park: candy + ice cream vendors walk around selling sugar crack to the hungover, but fabulous groups of well-toned gay men.
Last evening goodbye dinner.
Yoko goes all out and trows a decadent sashimi temaki party. Two trays of uni!
Cozy looking and festive spirit, but I felt a bit sad. I knew it would be long until I could again celebrate a feast like this with my Cali pals.
I drowned my sadness at LAX the next morning when I walked past this fabulously designed bar, and realised I had found my beach.
I asked for a large Martuni.
Dear California, thank you for another great summer.
Cheers!