MOTOism: Karashi Mentaiko Extreme (Spicy Cured Cod Roe)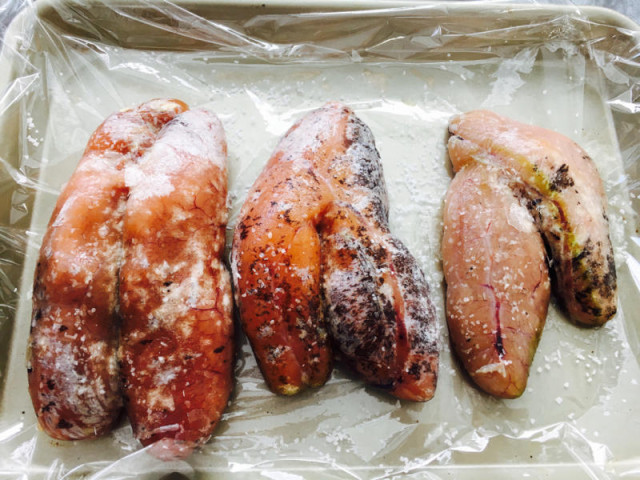 Hi I am back, sorta. I've been making a lot of stuff from scratch. I spend half the week in the countryside, with a big-ass kitchen -- it's an ideal setting to be creative/adventurous with my cooking.
The other day, I was at H Mart (the very best Korean supermarket with a ton of Japanese items, in NYC) and found frozen cod roe. I was intrigued.
Karashi mentaiko
(hot pepper cured cod roe) is a condiment widely available at Japanese grocery stores. But they are a tad pricey and I always taste chemicals in it. So when I saw this frozen roe, I thought, "Why don't I make it from scratch to see how it's made?"
Usually mentaiko looks red and smallish, but these guys are huge and there are quite a few dark spots (testicle-esque...) It's ok. I Googled around and saw a lot of roe with dark spots. The most popular mentaiko from Japan are probably bleached to remove these spots anyways.
The first thing that's very important to do when dealing with cod roe is to freeze them (if you find them raw). You never know what's inside the sack, and you want to make sure they are all dead by freezing them. Fortunately, these guys were sold frozen, so all I had to was to thaw them.
Once you thaw them, sprinkle salt on both sides, and leave in fridge for about an hour.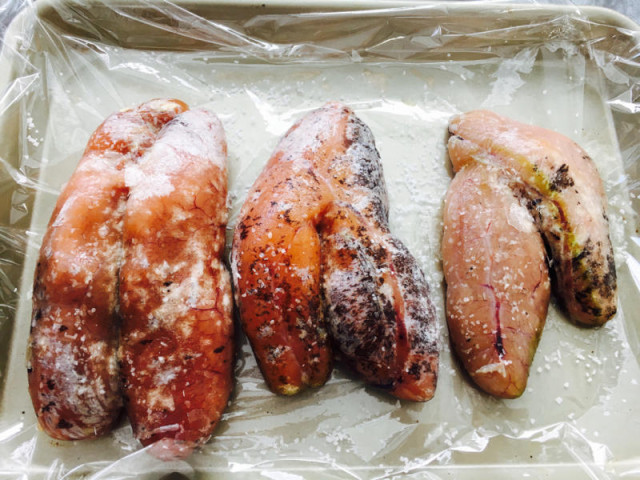 After an hour, wash each sack in about a cup of sake (not cooking sake, but a drinkable one).
Strain the sake and boil it together with about 1/4 cup of salt for 5 minutes to get rid of the alcohol.
Once you cool the liquid completely, pour it over the roe sacks in a Ziploc bag.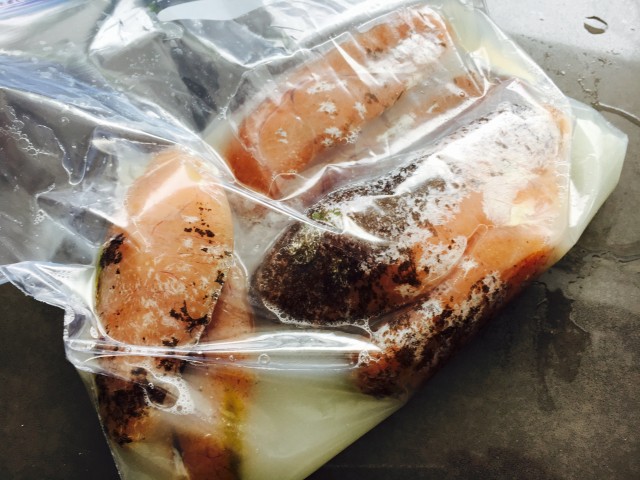 Put this in this fridge for about 10-12 hours. This is the salt curing process.
Meanwhile, make the curing/pickling liquid. Boil about 2 cups of sake for 5 minutes, then let cool. Once it's cooled, add a 4 inch piece of kombu into the liquid and leave for about 30 minutes. Heat it up again and when it boils, add a handful of
katsuobushi
(bonito flakes), then remove from the heat. Strain it and add hot pepper flakes, about a tablespoon of soy sauce and sugar. Mix this together.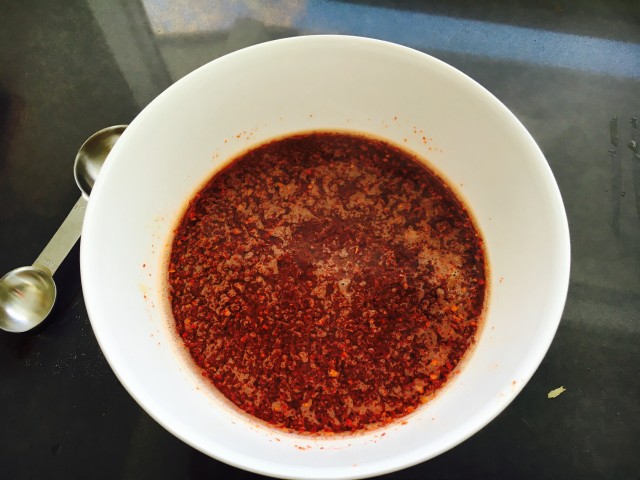 After 12 hours of pickling in sake/salt mix, take them out. Then leave them in fridge (under plastic wrap) for another 12 hours.
Can you tell that it's firmer? The salt definitely firmed up the sacks. This looks a lot more testicle-y. Gross.
Then put sack in a Ziploc bag and pour in the pickling liquid.
Leave this in the fridge for a week.
This is the end product. It's definitely more red than the original, but not unnaturally hot pink like the store-bought ones.
One more step before you are done. Leave this, again, in the fridge (covered), for 12-24 hours to let it air-dry a bit.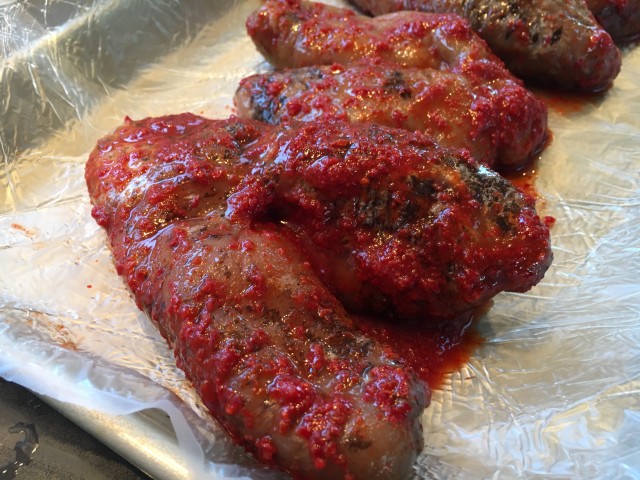 I should have pickled this for more like 10 days, instead of just a week. These pieces are too big to be completely cured in a week.
The flavor is actually very mild, despite hot pepper flakes. And not fishy at all.
Aside from eating mentaiko with a cup sake, or with a bowl of rice, another popular meal is
mentaiko-mayo pasta
. Mix mentaiko and Kewpie mayo and a dash of soy sauce. Pour it over the cooked pasta and mix well. Delicious!
I don't think I make mentaiko again, but it was interesting to learn the process.