MOTOism: Living on Deadlines
Apologies for my long absence, my life has been a bit chaotic. As you know, I teach cooking classes to Japanese ladies (some gents), and temaki sushi-making class for Americans. The sushi class is pretty consistent since I follow the same routine for each session, but coming up with recipes for the Japanese class occupies most of my time. My cooking has always been the Eyeballing Method -- now, whenever I try to create a new recipe, I have to grab a measuring spoon, instead of my usual free-pouring system. I teach about 9-10 classes a month, and once a class starts, I start thinking about next month class menus. It's never ending story.
I went to Italy to meet up with my mother in September. This is a picture of my mom after I dragged her to the Trevi fountain.
Mind you, we didn't throw in coins, since we were
NOT planning on coming back
. It was pretty, but not pretty enough to merit a return visit. And the fountain was so hard to find. 
Instead of enjoying Italy, I should have stayed home to come up with new menus. It was a mistake to travel, because in October, right after I came back from Italy, I suffered.
The theme of the month was, of course, pumpkin. I had the table decor centered around the pumpkin and everything.
I usually come up with a recipe, in my head, imagining this or that would taste good, without actually making it. Since I had been in Italy, and had to send an announcement two days after returning, I sent the menu, thinking they would be good, but without actually trying them out. I knew some would be good from past experiences, but I had doubts about few of the other recipes.
Here's the first course of the October menu. Butternut squash soup, with crispy butternut squash ravioli (store bought) with truffle oil, and pumpkin terrine.
I've made this soup numerous times, so it was a breeze. The terrine on the other hand was a bitch!  I thought I would know how to make it, but my first idea totally sucked. The second idea sucked as well, and as I was about to forget about the terrine, I came up with the final product, as you can see on the right side of the dish. It's easy, nice-looking, tastes good and again, easy.
Since I decided to use pumpkin for every course, and the entree was Pork Wellington, I used pumpkin as part of the layer. Plus pumpkin gnocchi as a side dish.
When you teach cooking, what you want to hear is, "Teacher, I've made what I learned last month, and everyone loved it, so I've already made it three times!!" Pretty satisfying comment, don't you think?
For November, obviously the theme was Thanksgiving. I wanted to create a harvesting centerpiece, but didn't want to use real fruit. These look like a bunch of grapes, right? I used a fruit bowl as a vase.
A fabulous flower arrangement is also important to impress students.
Turkey was on the menu everywhere.
In the crystal bowl on the left is an inside-out pigs in a blanket. Get it? I wrapped brussels spouts with ground turkey, and cooked it in tomato juice. Pretty genius. In the middle on a spoon is a pinwheel ham and cheese pie. Puff pastry is so useful. On the right is turkey, cranberry and eggplant lasagna roll with gravy. I made dishes using Thanksgiving elements, but with a different approach.
Brined turkey breast roll with stuffing and spinach.
This is SO MOIST, thanks to
brining
. The roll was served with hasselback potato, with a gravy-meets-tomato-juice sauce. This was extremely well received by students, and many of them made for their own Thanksgiving. I also made this for my own Thanksgiving feast this year as well.
Oh, and we recently bought a country house, and the first hosting gig was my annual Thanksgiving feast with friends. As I was plating appetizers, we had a little photo shoot.
Unlike NYC, the country house is unbelievably large and the dining table is 10 feet long, and there are always 10 chairs (this is the extended version, and shrinks down to a 4-top as well). Since we are still setting up the house, I had to work with a limited supply, but it turned out pretty good.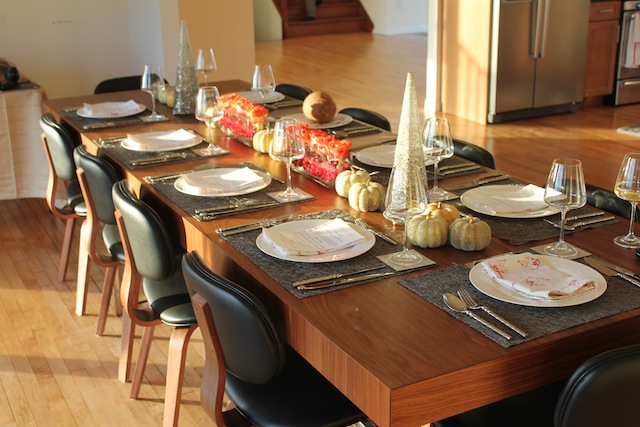 And now it's December, and I am teaching a holiday-themed class, with some of the most ideal desserts for the season -- like the Christmas tree shaped Mont Blanc.
You may think it's hard to make, but it's actually not that difficult if you can follow all the steps.
This is my life now. I create recipes, teach them, and once I start teaching, I create the next recipes. The pressure is high to come up with something new, fun, easy and exciting -- then all the countless testing to perfect it, can all be frustrating. But whenever I hear students get excited with exclamation marks in their voices (yeah, I can tell if they are really impressed, versus they are just saying it to be nice), all the effort is worth while.
2013 has been a fulfilling year, and I would hope to continue to grow in 2014.