Skankynavia: Londinium Leisures
I used to loathe this city when I lived here.
That was back in 1998 and I was poor as a peasant poofter pigeon. I went looking for the hip & happening 1990's London which I'd always dreamt about while listening to BritPop all through high school -- the city of Blur, Oasis, Suede, Elastica and all my heroes. But it never turned out neither hip nor happening for the insecure nerd I was and I ended up working as a night porter at a hotel outside the city. A dreadful job on the lowest step of the society ladder.
Every time I ventured into London I was sleepy after not having ben to bed for almost 24 hours, confused of the transport system, annoyed at the constant huge crowds of tourists, the drippy weather, the smelly Tube, the constant class-focused Englishmen and especially hating always being SO POOR! I couldn't even afford a sandwich and a bus ticket home, so I'd buy the sandwich and walk the five kilometers home along the countryside road instead.
Coming back 15 years later in life, it's a whole different London. It's still an expensive city, especially the food. But it's nice to finally be able to afford it (as long as one stays clear of trendy five-course dinner spots). I spent a week mid February 2013 in a generous friend's family owned apartment literally next to Hyde Park in W2 right next to Notting Hill, quite a nice area for the well off crowd.
I believe Neil Tennant of the
Pet Shop Boys
used to live around here.
View from the apartment across the "secret" street park which was featured in the movie called "Notting Hill" with Hugh Grant & Julia Roberts.
Londinium, the ancient city that was
once the largest in the world
, died out around the 5th century, and later regrew into the present London. Now, the city, and the U.K. in general, is world famous for many things other than food. It still deosn't stand a chance in this modern world of
California fresh-veggie-organic-kitchen
or trendy-healthy-sturdy-New-Nordic-Scandinavian cuisine. Hello, England! Fatty meat pies, salty crisps, sticky sponge cakes and sweet milk tea just won't cut it in 2013.
But just as New York isn't an entire representation of the U.S., London isn't a complete representation of the U.K. either -- it's a capital full of burstling life, thousands of cafes, restaurants and watering-holes built by and still running on the shoulders of many different ethnicities and cultures from around the world. If you have a certain craving for something and you happen to be in London, you will not be disappointed.
On my first day in the city I spent eight hours at the V&A (
Victoria & Albert Museum
) which features arts and crafts through time and places on Earth. It's just unbelievable.
A closed off area of restoration:
The amount of pretty is just sickening (in a good way, that is).
An old staircase from a German city house of medieval times. And to the right, the quite impressive lunch quarters of the museum.
A beautiful room filled with pillars and a live piano player in the centre. Lots of old ladies lunching with their friends. Just lovely.
Patterned tray featuring the typical English lunch: soda, sandwich and crisps.
I'm having a succulent pulled duck & apple chutney roll with a side of beets and greens. The Cider Vinegar & Sea Salt chips are perfect with the Coke. For dessert a piece of Rocky Road marshmallow & brownie cake. This was so good I had to come back four days later and repeat this meal.
Pre-dinner drinks later at my friends Thorbjørn & Luisa, editors of the
HERSELF
fashion magazine.
I forgot to snap a photo of the dinner, but managed to catch this beauty of a simple yet delicious dessert: sugar and vinegar marianted strawberries with sweet cream and mint leaves.
A mixture of Danish and Italian flavours.
Next morning: a sweet almond crossiant from the expensive luxury department store
Harrods
.
At their ground floor bakery department I actually waited in line behind the actor Michael Caine aka Alfred and Alfie!! So very London.
I also got this freaky thing, a raspberry meringue with chocolate bits.
Too crunchy, dry and not sticky enough inside.
I also almost bought one of these truffle boxes at Harrods.
They are quite beautiful and at $21, over the top. I had to pass.
Later that day I met with Sakura, the editor of the book blog
Chasing Bawa
and co-UM writer, to investigate
a new Indian place called Dishoom
she'd wanted to try out.
Great vibe, warm interior, not too pricey.
Super tasty garlic naan and below then some
roomali roli
.
For dessert:
Kala Khatta Gola
ice (fluffy ice flakes steeped in
kokum
fruit syrup, blueberries, chilli, lime, white and black salt)
This would be amazing on a hot city summer's day in downtown Mumbai.
This was great too: pineapple and black pepper crumble with cinnamon ice cream.
I love Indian food, I wish there were any actual good places in Copenhagen.
In the evening I had some truly horrific sushi at the trashy Yo Sushi! U.K. chain on Queensway.
Nasty, cold, hard rice without any taste. No wasabi underneath the hand ripped bits of ancient, forlorn fish. I think this plate was $11 or something. The place was employed by teens who could care less about making sushi, other than to snooze in a corner to the steady rhythm of ice cold, dried out bits of sushi moving by on the desolate rolling band.
Kuni-san
would have ha a tantrum and thrown the soy sauce cups across the room in pure rage. I had this plate and a few more, and a miso soup -- and despite not being full at all, I paid my bill ($35+). I left quickly before losing total faith in humanity (too late anyway).
On my way home I spotted these in the supermarket, but forgot to buy any of them: English puddings in different flavours. I'm very
interested in packaging design
and these babies are beautiful. You can even re-use the ceramic bowl afterwards!
Candy break!
You can get lots of fun stuff in the U.K. unavailable in Copenhagen.
Two kinds of Moomin licorice, both great. Cow Tales is available in DK too though, it's super artificial but I like it. Below that is the American import Berrie & Cream Milky Way, which was so good. The Cherry Ripe has a great name and look, but it's a bit boring in flavour.
Below observe Cadbury's classic Caramel Chocolate. And some different U.K. only chocolate bars. All good, especially the Starbar with peanuts & caramel.
The Creme Egg is also cool with fluid yellow and white insides like a real egg. Perhaps you might like that, Yoko?
It's Easter soon!
Goddamit, why do other countries always have more exciting ice creams than Denmark?
Look at these cute little Carte d'Dor's the size of a hand. And so cheap!
Next day my friend Thorbjørn took me out for an exclusive, traditional afternoon tea at the
Langham Hotel
in mid London.
I am told that afternoon tea is what English people do to celebrate a graduation, a new job, etc. They book a table at a posh hotel's tea room and are served a range of small snacks, breads and cakes along with good tea.
What the hotel says about this room:
The centre piece of the hotel, the dazzling Palm Court is famed as the place where the tradition of afternoon tea was born over 140 years ago, an indulgence that lives on today as Tiffin at The Langham.
All day light dining is served with timeless elegance and as the work day becomes evening time, the change of day can be celebrated with your choice of your favourite fizz from an extensive Champagne list and served in a striking bespoke coupe glass.
We chose the Asprey Bijoux Afternoon Tea, a limited-edition menu with intricate cakes & patisseries created to reflect the brand Asprey's recent jewellery collection.
So gay. So fabulous. This is the opposite of a German trucker diner.
A berry jelly is served as a palate cleanser and starter. It was very discreet in taste, not too sweet.
Speciality sandwiches: Quail egg and wild musroom othello, smoked duck with foie gras and cherry, crayfish with fennel and thousand island sauce, parmesan with Forume d'Amebert and cucumber, lamb and mint pastry.
These were very luxurious and over the top. Foie gras on top of smoked duck!!?
An assortment of freshly baked, still-warm Bedford scones with raisins, chocolate and marinated orange. Served with Devonshire clotted cream and strawberry preserve (I love how jam is called "preserve" in the U.K.).
These were absolutely perfect, exaclty how scones should be. Not those hard, heavy bricks you buy at normal bakers. These were so fluffy and light.
By now we were already quite full so we took a quick time out while enjoying the live piano player and just sipping a bit of tea and spying on crowds of Arab and Japanese women with luxury shopping bags surrounding the entire table area.
Then the grand finale arrived: Praline truffle, pina colada macaron with Malibu, blueberry and bilberry battenburg, purple jasmine with apricot, blackcurrant and white chocolate mousse.
WOW! Like eating delicious jewellery. The flavours were more traditional than the design of the cakes, but it was good fun.

The service was impeccable, constantly pouring us tea; asking whether we'd like a fresh pot since the old had been sitting on the table for over 20 minutes (oh no!).
They even offered us a "doggy bag" for the last scones we couldn't eat:
The Langham was wonderful, and even though we left with a bill of $210 for two peeps it was a great experience. Everyone deserves to feel like a Russian prince(ss) for a couple of hours.
Next day discount breakfast (no more royal service): blueberry pancakes with syrup (bought at the supermarket and heated at home).
A visit to the
British Museum
:
Lots of peeps and a not-so-hot Japanese exhibition on the top floor -- too old and worn out.
But the lunch was good: Fish pie with veggies.
I've never had a traditional English pie before and thought it was about time. It was very succulent, heavy and filling. Perfect on a cold February day.
Fish pie porn:
Walking around Notting Hill / Kensington High Street.
Enjoying a sturdy carrot soup on Portobello Road: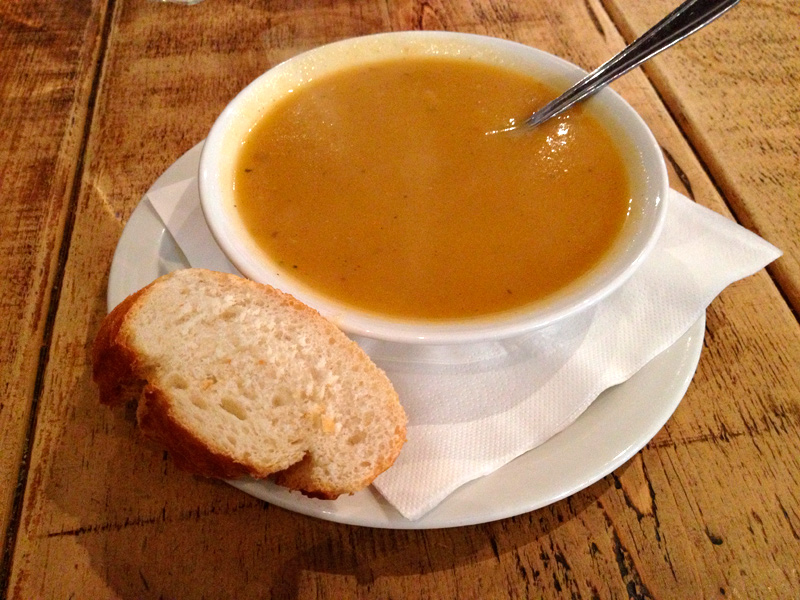 Cake shop in another London neighborhood.
Candy
Tacky Cakes
More meringues in a bakery window -- seems very popular in London at the moment.
Natural History Museum.
I had been looking forward to visit this museum and spend days looking at rocks and bones. Unfortunately so had half the population on Earth.
This is the thing about London -- there's this constant overload of tourists that would make you go crazy if you were a local. Too many people in too little space. I left without giving the museum cafe a chance.
Next morning I went to check out
Tom's Deli
in Notting Hill, recommended by my friend who is in the know.
It's a cross between a small shop with imported delicacies in the front and also a back cafe/deli/breakfast nest. The interiors are nothing to write home about, but the crowd is top notch.
Just in front of me sat a British actor, very handsome, who spoke the most proper English just like in the movies. I haven't been able to find his name. I should have snapped a pic, but we're in Notting Hill, where manners matter.
Eggs Florentine with spinach.
Look at these! Heavenly.
Scotch pancakes filled with marscapone cream and a berry compote. Also good, but very filling and heavy.... and huge!!
Americano with steamed milk on the side (classy).
I really enjoyed eating here in a relaxing atmosphere. Slightly on the expensive side ($35 for a breakfast), but this is Notting Hill. I need to find me a handsome Notting Hill bachelor who can afford dining here every morning when not walking the dogs outside our three-story mansion.
Last night in London: we went to the
Drapers Arms
 in Islington. A classed-up pub serving great food.
Rustic bread on wooden plate.
Very English-cottage aesthetics.
Lemon sole with white asparges and shrimps. Very crunchy and fresh. Although a bit too many bones to constantly fork out of your teeth.
Braised lamb breast with white beans. Very English.
Mereingue (again!) with rhubarb and cream -- fresh and sweet.
Caramel cake & cinnamon ice cream, I think. Very good.
View through window at the end of the evening.
London is definitely not a vast, dead desert of great food experiences. It may not be in the trendy spotlight for its traditional food yet, but perhaps this is already changing with places such as the Drapers Arms and other pubs that are sharing new ideas and flavors, while staying true to who they are -- just like what's happening in Scandinavia with New Nordic cuisine.
I will definitely be looking forward to dive deeper into the culinary underbelly of Londinium; and next time I might hop over the pond for a snack.
VICTORIA & ALBERT MUSEUM
Cromwell Road
London SW7 2RL
Tel: +44 20 7942 2000 
HARRODS
87-135 Brompton Rd, Knightsbridge
London, SW1X 7XL
Tel: +44 20 7730 1234
DISHOOM
12 Upper St. Martin's Lane
London, WC2H 9FB
Tel: 020 7420 9392
PALM COURT AT THE LANGHAM
1C Portland Pl  
London W1B 1JA
Tel: +44 20 7636 1000
BRITISH MUSEUM
Great Russell St
London WC1B 3DG
Tel: 020 7323 8299
TOM'S DELI
226 Westbourne Grove
London W11 2RH
Tel: +44 20 7221 8818
DRAPERS ARMS
44 Barnsbury Street
London, N1 1ER 
Tel: 020 7619 0348