Taco Trip Down the California Coast (SF/SB/LA/SD)
This post is so delayed, but better late than never for such an epic guide to tacos in California. After being open seven days a week during the holiday season, Yoko and I took a much needed 10-day break. Hooray! Yoko traveled to Tokyo, and I went to San Diego to visit my best friend who was having a baby. Johnny and I decided to spice it up by making it a road trip, and we even borrowed Hideko's Prius (luxury!) for this seven-day journey.
Johnny is quite the taco connoisseur. He loves tacos, especially the
al pastor
(spit-roasted pork) variety. He usually orders tacos in increments of five, and he has a real passion for truly spicy, bloody red salsas. He judges any self-respecting taqueria by the charred crispness of the meats and the depth in flavors of the salsa. I let him take the reigns for our California-wide taco crawl, hitting taquerias and taco trucks in San Francisco, Santa Barbara, Los Angeles and all over San Diego. Thus began "Taco Trip 2013".
Taco Stop #1: Taqueria Angelica's, San bruno
Johnny swears that there are no decent tacos, at least the way he like them, in San Francisco proper. The closest place he goes for good al pastor is this taco truck parked near SFO in San Bruno.
It was pretty busy for 4pm on a Sunday. Johnny used to come to this truck religiously when he worked in Brisbane. As all self-respecting roach-coaches go, Angelica's is open seven days a week until sunset, parked in front of a Shell gas station, across from that huge Tanforan mall with a Hooter's.
We were on our way to dinner with my parents, so I limited myself to two tacos.
Johnny limited himself to four.
Told ya he likes salsa!
Close up al pastor. Bloody fingers.
Happy Johnny.
We headed to my parents house to pick up the Prius. I really just thought it would be fun to drive a car with a new car scent, and we would save gas this way.
Hideko showing us how this thing works. Just turn the "on" button! Motion sensors to lock and unlock the door! Serious luxury.
And we were off!
Is this a bit ridiculous, or what?? I felt like a teenager "borrowing my parents' car" but I seized the opportunity to convince my mother to let me drive it while she was drunk one night. Besides, I wanted to drive around LA and look for Larry David so we could wave at each other.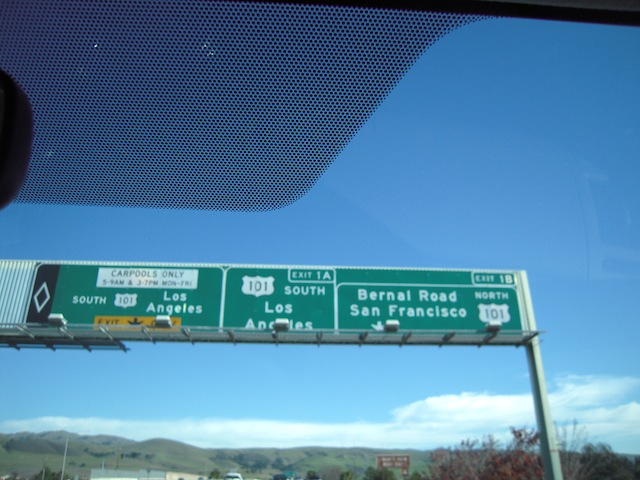 The drive down to Santa Barbara was tense. I was convinced that there would be an
In-N-Out Burger
somewhere around King City, so I told Johnny to hold off on his burger craving (we had just passed the one in Salinas). Oops, no In-N-Out in King City. The next one wasn't for another hour, close to San Luis Obispo. He was starved and annoyed. SORRY!
Was it worth the wait? No. For some reason this burger did not cut it for us. Is In-N-Out declining in taste?
We made a pit-stop in San Luis Obispo for a quick dip in the hot-springs at Sycamore Springs. You get your own private hot tub under the trees. At $20 per hour, it was totally worth it and a lovely way to spend New Year's Eve. More info
here
.
Taco Stop #2: Carniceria Mayo's, Santa Barbara
Now, much to our dismay, nearly every taco shop in Santa Barbara was closed on New Year's Day. La Super Rica, Lilly's Tacos, El Bajio -- all closed. We tried to call a dozen other taquerias -- closed. Carniceria Mayo's was actually open.
I got the carnitas.
The meat was crispy on the outside, and the salsas were spicy and flavorful.
The perfect bite!
They didn't have al pastor, so Johnny asked the lady what she recommended. She said that the
adobada
was popular. Neither of us had heard of this, but it is spicy pork.
Adobada was more like chorizo than al pastor to me, and it was quite good. This one was a bit gummy, but you'll see the supreme version in a bit (ooooohhh, foreshadowing!).
Peacock!
Me in my New Year's uniform.
Not a bad start to the year, although I prefer
Lilly's
. But everyone deserves a day off, especially on New Year's Day.
Onwards!
Taco Stop #3: El Jato Mariscos, East LA
We couldn't drive through LA without seeing
Kid Skwid
aka
mi hermano
. It was a rare day off for him, and it was great to hang out on New Year's Day. He's been talking about this taco truck in East LA forever, which he swears has the best
mariscos
(seafood).
Our lady of...
... Shrimp tacos!
... Ceviche mixto!
A plate of fresh shrimp, pulpo (octopus), cilantro and avocado. WOW!!!
There was a bag of tostadas hanging out for customers to take as they pleased. Love it!
Shrimp ceviche and fresh neon green avocado atop said tostada.
Sun-kissed dream! The shrimp tasted really fresh, and not iodine-y the way shrimp tends to taste these days around the Bay Area.
The shrimp tacos were delicious. I'd be curious to know the preprations of these, as it literally took the cook about two minutes to make them.
Perhaps they just shove the shrimp mixture into the pre-fried tortilla? Or, they fill the tortilla with the shrimp, then fry? That sounds complicated. Anyhow, Johnny loved these tacos and were probably the second most memorable on the trip.
I couldn't resist going back to order a seafood
coctél
(cocktail):
You don't understand. I am a total sucker for fresh seafood doused in tomato sauce and lime juice that you scoop out with a spoon. It is probably the best version of a cold soup ever.
Damage:
Hello boys!
Note the open containers. Shameless.
The truck was definitely hoppin' around 3pm. It is a neighborhood gem!
El Jato is definitely worth the trek out into the wilderness of Los Angeles (about 20 minutes east of downtown). Do it!
Taco Stop #4: Lolita's Taco Shop, San Diego (Kearny Mesa)
Wow, this looks like an Instagram photo, but it is not!
From LA, we drove two hours south to San Diego, which was our final destination. What do you do when you're in San Diego? A California Burrito, of course!
I think we found Lolita's on Yelp for a highly recommended California Burrito. EVERYONE in San Diego seems to have an opinion about where to get the BEST Cali Burrito, it is hilarious. It's the equivalent to the question, "Where do you go for ramen," in the Bay Area. We get that a lot at Umami Mart. Then war strikes.
What is a California Burrito? There are offshoots and add-ons, but in its purest form, it is carne asada (super fatty grilled beef), french fries, cheese and sour cream. The french fries are an absolute must. You would appreciate this, Yoko.
The tortillas were huge with lots of air spots (a good sign) and seemed to be homemade (or at least locally made). They were warm and translucent and smelled buttery. Mmmm. The burritos themselves were tightly wrapped, ready for man-handling.
We weren't hungover but this is definitely one of the best hangover foods out there. Lolita's version was packed with meat, cheese, fries, and overall was well-balanced. Nothing worse than a burrito where you get all the meat in the first three bites, then you're left with a bottomless pit of cheese and sour cream. Also, crispy fries are important (which these were), preferably like the McDonald's kind.
Add some salsas to the burrito and enjoy a hot cup of coffee alongside the massive beast and bask in the San Diego sunshine. You probably should skip lunch.
Taco Stop #5: El Paisa, San Diego (47th Street location)
I asked the awesome SD food blogger
Mmmyoso
for his top taco picks, one of which was
El Paisa
. There are two locations, and he recommended the one on 47th Street. This place is known for its al pastor, so of course we had to go.
And it was a hit! The meat did not come off a
trompo
(vertical spit), but instead is cut into pieces then grilled or fried. I prefer mine straight off the spit, but Johnny likes the crispness of this preparation.
Johnny was not keen on the avocado salsa, which you get if you say you want "everything" on it. However, he was very happy with the meat, which was spiced very well.
Taco Stop #6: La Fachada, San Diego (Logan Heights)
The following day, we set out early for one of my favorites,
Las Cuatro Milpas
. But oh no! CLOSED for the holidays! So we went to a place down the street that was on Johnny's bookmarked places to try on Yelp called La Fachada.
I love this! The shrimps are amazing:
Juice bar on once side:
Lots of old-school arcade games in the back:
As much potential as I thought this place had, it was a total bust.
Johnny of course went crazy and got like five tacos with sad-looking, limp meat. He's such an optimistic soul!
I was, of course, sold by the shrimps painted on the window so that's what I got.
The shrimps were fresh, but do you see the lettuce?? UNACCEPTABLE!!! I will not have lettuce in my tacos, that is simply sacrilege! (Unless it is Taco Bell, which I will shamelessly eat, no problem).
Now this place had actually been on MmmYoso's list of taco recommendations but I did not read the part where he said, "Don't go in the La Fachada restaurant, eat at the truck parked out front. Actually, I prefer the carnitas at La Fachada."
FAIL!!!
Pit Stop: Salk Institute, San Diego (La Jolla)
This is a place I've been wanting to go since watching the documentary
My Architect
. Designed by Louis Kahn, the Salk Institute was built as a research lab for biological studies (Jonas Salk, who discovered the cure for polio, commissioned Kahn to design the building). With sweeping views of the Pacific, the Institute is truly a serene, calming, and temple-like oasis -- and certainly a prized destination for design nerds and architecture enthusiasts.
The building facade is a mix of teak and cement. It was a surprise to learn that
Tadao Ando
had never visited here until recently, as it seemed very Ando-style.
Each researcher's office have views of the Pacific. Fancy!
We went on the
free two-hour tour
of the grounds and even into some of the labs; our docent guide was fantastic. Make sure to make a reservation as we were barely able to squeeze into the tour.
Taco Stop #7: El Zarape, San Diego (University Heights)

After the La Fachada debacle (Johnny actually didn't feel so good afterwards), Johnny wanted some taco redemption. We headed to El Zarape, where I remembered having their fish tacos during an
Umamiventure
a few years ago.
The fish taco is only 99 cents! It is not the best fist taco in SD (check out all the seriously awesome tacos from our fish taco crawl in 2009), but it is certainly a bargain treat.
The scallop taco is delicious. Although I could do without the cheese
Johnny's carnitas burrito. He had no complaints.
We took a chile relleno quesadilla to-go which was very good. But I say at El Zarape, stick with the seafood menu items.
Taco Stop #8: Tacos El Gordo, National City
On our last day, as we were checking out, we were trying to decide where to eat. Johnny was (deeply) disappointed that he had not found a blow-your-mind al pastor, and he clung onto faith that it must exist. Tacos El Gordo was recommended by Mmmyoso and thousands of Yelpers, but it was 30 minutes out of our way. So we decided to play it safe and go to
South Beach Grill
for my favorite oyster taco.
But back in the car, something wasn't right. Could we really just leave San Diego without ever having discovered the Best Taco Ever??? NO WAY! We made a detour and headed south to National City, close to the border.
And this is where we found our Taco Mecca.
Tacos El Gordo was pretty empty at 11:30am. The menu is sparse, with the adobada as their main attraction. And this is where we fell in love...
A trompo of adobada! Look closely at the tortillas and see that the fat from the meat is slathered onto the tortillas. True love!
We ordered our tacos and patiently watched the meat masters build our tacos.
That's my taco!
Now, I was hesitant so just ordered three adobada tacos. Johnny ordered two, plus a brains and tongue.
I'm not going to speak now and just let the photos work their magic.
Yup, they were AMAZEBALLS!!!! The meat was delightfully spiced, perfectly crisp and had a beautiful balance of flavors, thanks to the avocado salsa, which was slightly sweet. The meat was reminiscent of Chinese roasted pork -- you see that it's hot pink on the outer edges? Top notch!
And yes, We went back for more. I think I ended up eating eight and Johnny had ten.
Johnny proclaims, "SUCCESS!"
And then, we were happily homebound (and way stuffed). My friend even had her baby the day before our departure, and I was able to meet and hold him.
Precious moments!
Indeed, it was a wonderful way to start off the year. I cannot say that this is the "definitive" guide to tacos in California, as that would require much more time and research (the NY Times did a pretty great round-up in
2006
). I would include the gas station taqueria in
Pescadero
, Taqueria
Santa Cruz
, and Lilly's in
Santa Barbara
. I've also heard great things about Guisado's and the midnight al pastor stands in LA. In any case, we were able to try new places off the beaten path, and now have a newfound love for adobada tacos. And babies! (No I'm not having any soon).
TAQUERIA ANGELICA'S
Sneath Ln and El Camino Real
San Bruno, CA
CARNICERIA MAYO'S
2704 De La Vina Street
Santa Barbara, CA
T: 805.569.1591
EL JATO MARISCOS
4911 E Olympic Blvd
Los Angeles, CA
LOLITA'S TACO SHOP (Kearny Mesa)
7305 Clairemont Mesa Blvd
San Diego, CA
T: 858.874.7983
EL PAISA
840 S 47th St
San Diego, CA
T: 619.262.5128
LA FACHADA
20 25th St
San Diego, CA
T. 619.236.8566
SALK INSTITUTE ARCHITECTURAL TOUR
10010 N Torrey Pines Road
San Diego, CA
T. 858.453.4100
EL ZARAPE
4642 Park Blvd
San Diego, CA
T: 619.692.1652
TACOS EL GORDO
1940 Highland Ave
National City, CA
T: 619.474.5033