Slightly Peckish: London Ramen Wars - Tonkotsu (LDN)
London Ramen Wars Part I: Ittenbari
The second ramen bar that opened in London close on the heels of Ittenbari is
Tonkotsu
located in the middle of Soho. Run by the team behind Tsuru Sushi whose
pop-up ramen event
I attended last year, Tonkotsu is a stylish and modern ramen-ya serving tonkotsu ramen as its central dish -- so beloved of Kyushu in Southern Japan. Its creamy, silken soup made from boiling pork bones for hours, is a HUGE hit in London. Londoners are IN LOVE with the porky broth, more so than the fundie shoyu ramen. The porkier, the better.
So what's it like?
You can see a lot of thought has gone into the decor of the place. It's all hip and swinging and minimalist with lots of wood and metal. As you enter the restaurant, you are greeted by vats of aromtic, steaming broth, a welcoming sight for hungry noodle slurpers.
On my first visit to Tonkotsu, I went for the 
Tokyo Spicy
 which is sadly no longer on the menu. Here's a photo of it while it was still available:
The
Tokyo Spicy
was shoyu-based with a spicy kick and the soup was well-flavoured. I liked that there was a fiery twist to the ramen and am sad it's no longer there. They now have a Tokyo ramen which is probably similar although I haven't tried it. At their pop-up event I wasn't too keen on their straight shoyu ramen which had an overpowering taste of
niboshi
but the menu says it's all chicken and pork.
The noodles were of medium thickness and springy, just the way I like it:
The aji tamago (seasoned soft-boiled egg) was creamy and quivering.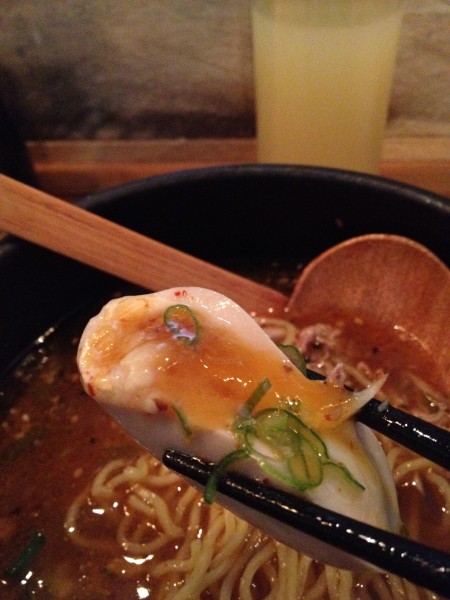 Perfect.


My friend had the
Shimeji, Shiitake and Miso
ramen which was the veg option:
She enjoyed this although we both agreed the soup needed a little more oomph to liven it up.


Their very own home-made 
taberu ra-yu
 (chilli oil) with bits in it which was astonishing in its deliciousness.
You'll be happy to know that you can purchase your very own jar of this chilli oil at the front. Who can resist?


The second time I went back I plumped for their famous
Tonkotsu
 ramen.
As you can see, the soup is creamy but surprisingly light, a pleasant surprise as tonkotsu can be heavy.


The noodles are white and thin as they should be with any tonkotsu-style ramen.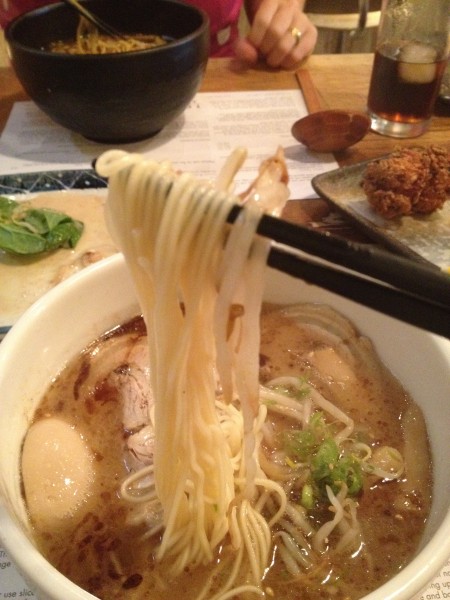 We also had some sides -- the pork gyoza was staggeringly good.
These were juicy and plump and oozed porky goodness and were deliciously chewy. Probably the best gyoza I've had in London. None of that frozen stuff here.
And the chicken
kara-age
. Oh. My. God.
This was also probably the best I've had in London too. And I've had a lot. It was crunchy and juicy and, frankly, orgasmic.
We also tried their spinach and bean sprout salad with sesame dressing which was nice.
Good to have if you want to feel healthy but not essential.
Call me old-fashioned but I still rate
Ittenbari
's miso ramen as my favourite although Tonkotsu's ramen are solid and proving extremely popular. And having been a few times, I also noticed that they have increased the portion of their noodles which at the beginning were tiny. Good call. However, I'm tempted just to go back to eat their gyoza and kara-age which are the real stars.
TONKOTSU
63 Dean Street
London
W1D 4QG
T: 020 7437 0071