The Swedish Chef: Larb Gai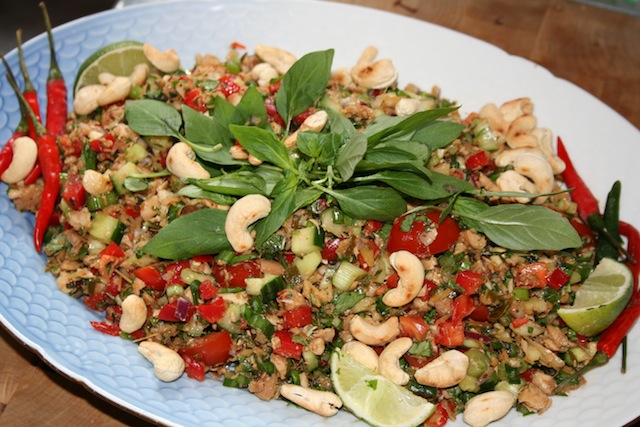 By Haan Ridell
Hi I'm Haan. I'm Swedish but live in Copenhagen, and I fly around the world for a living. Very lucky me, since I get to learn about new cultures -- and what better way to learn, then to eat? I dash off to all the supermarkets, spice-markets, wine-markets and all the you-name-it markets, and eat locally as much as I can. My food philosophy is that since you have to eat, you might as well eat good. And that's what I do.
I had the luxury of living in Bangkok for a year where I picked up a few Thai dishes that I keep falling back on here in the cold north. Thai food is what a good art exhibition is for your eyes, lots of provocative and vibrant colors and taste explosions -- and for the most part, it's super healthy.
Larb gai
is a favorite, a funky fresh spicy salad, introduced to me by our housekeeper when I lived in Bangkok.
Larb
means minced meat salad and
gai
means chicken in Thai -- it's basically a take-whatever-herbs-you-have-in-your-garden salad filled with a lovely variety of flavors and textures, with finely chopped chicken and sweet and sour lime dressing, and of course, lots of Thai chilies. The big secret to success with this dish is to chop chop chop!
This is my Scandinavian version of larb gai.
INGREDIENTS
A couple of stalks of lemongrass
6-8 limes
10 or so kaffir lime leaves
Garlic
Thai chilis
Bunch each of cilantro, mint leaves, Thai basil
Dressing: fish sauce, cane sugar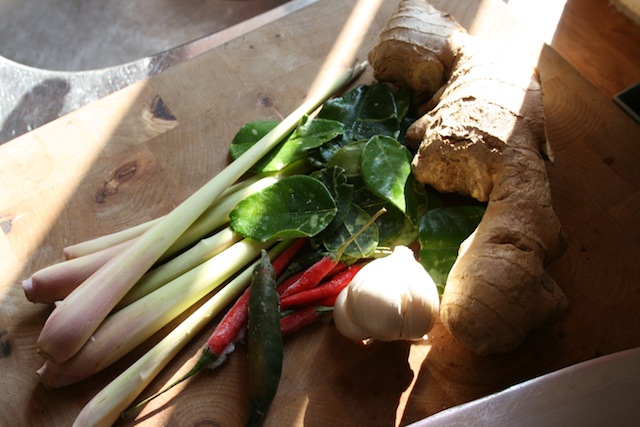 A couple each of red bell pepers, cherry tomatos,
1 each of red onion and cucumber
METHOD

1. Squeeze 2 -3 limes into a food blender, add chopped up lemongrass, kaffir lime leaves, garlic and chili, and blend finely. These are the basic flavors for the dish.
2. For the dressing, squeeze the rest of the limes into a bowl and add cane sugar and fish sauce until you get a good balance of sweet and sour.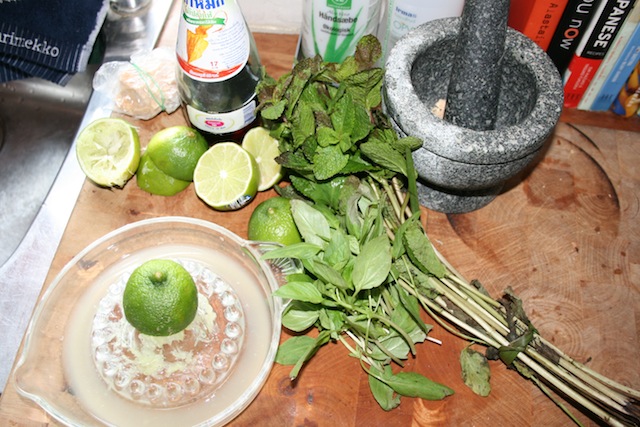 3. Add finely chopped cilantro, Thai basil and mint leaves to the dressing, mix well and put aside.
4. You can use whatever meat you like but I prefer chicken, so I usually take a roasted whole chicken and chop up finely:
5. Then I mix the chicken with the blended lemongrass paste (from Step #1) and leave it to marinate for a while.
6. Time to chop veggies! A good tip is to squeeze out the "liquids" from the tomatos, otherwise the salad can get a bit soggy.
7. This is where I add the rest of the herbs (roughly torn) to the marinating chicken to get some texture and taste explosions -- mix in the rest of the cilantro, Thai basil and mint leaves and mix with the lime dressing.
8. To crunch up the salad I use roasted cashew nuts, just give it a couple of minutes in a frying pan and they're done when golden brown.
... And since me and my guest, Mr.
Skankynavia
aka Anders, were getting kind of hungry and thirsty by this time, some snacks and a cocktail were in order. I just happened to have some Chiang Mai sausages laying in my freezer so I made a quick northern Thai starter (spicy sausage, chopped lime, ginger, onion and cashews) along with a very dry Martini (actually just Gin) to get us through the rest of the steps in making our larb gai!
9. Since the chicken is already cooked, it doesn't need a long time in the frying pan -- really just to brown it up and release the flavors from the lemongrass paste. So when your kitchen begins to smell like a Thai street kitchen, it's done.
10. All set, really just left to mix the chicken with the veggies, possibly spice it up with some more fresh chilies, more herbs, and fish sauce.
11. Plate, sprinkle on the cashews, a lime wedge, a few basil leaves, and ta-dah! Time to eat!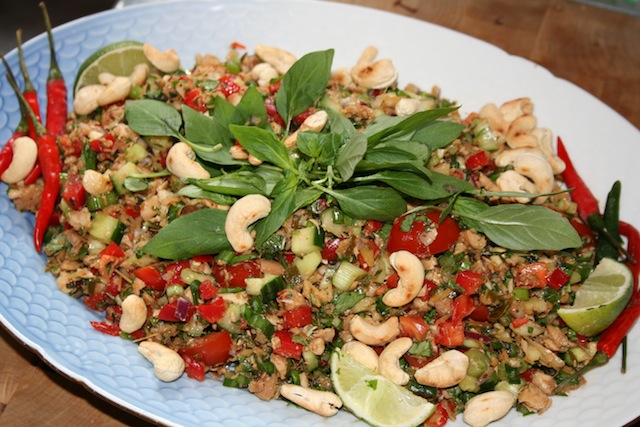 We drank a nice, fatty California Chardonnay (J. Lohr 2010) but an ice cold Asian beer would do just fine as well.
Bon appétit!
*Haan is an air steward, chef and sci-fi geek, travelling all over the globe in an Airbus 340 spaceship. Boyfriends are boring so he cooks instead! Supermarkets in the far corners of the Earth, stoneware, and the occasional Star Wars convention rock his world.