Tokyo JUNKtion: Dessert Le Comptoir (Fukasawa)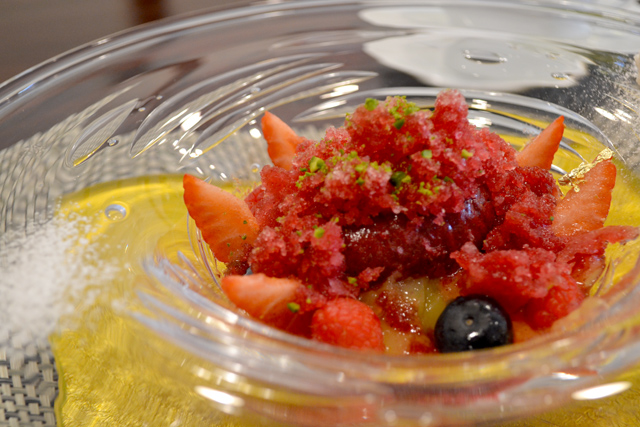 The art of perfection is everywhere in Japan. In its laquerware, electronics and especially in its food. Dessert Le Comptoir in Fukasawa, Tokyo is an example of food perfection. A 10 minute bus-ride from Jiyugaoka, it's a bit of a challenge to make it out here if you are not given specific directions, but when you arrive, it's worthwhile. Our friends who live in Fukasawa invited us here on our last day in Tokyo before heading back to Berkeley.
When you enter the joint, it feels like you've traveled to a place where time stands still.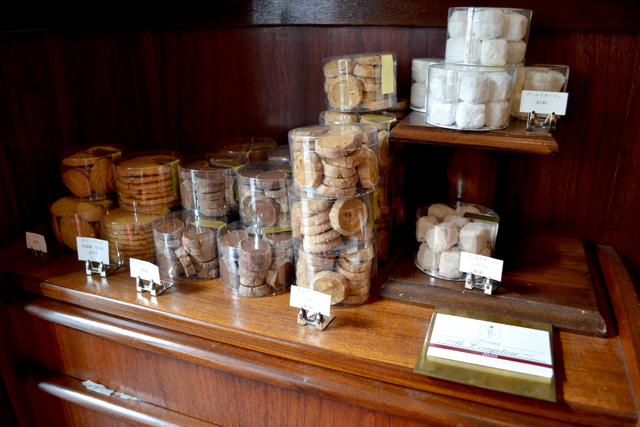 With bell jars housing single macarons and an immaculate bar counter that is probably waxed with piano polish, I expected a prim and proper keeper of the house to appear from the back expecting you to have read an
Emily Post
book cover to cover.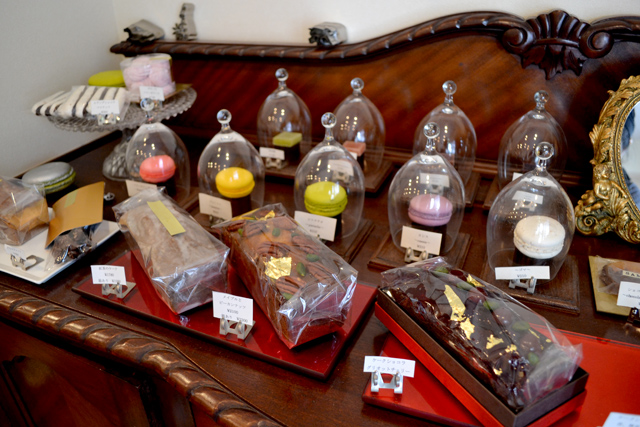 Instead, a guy reminiscent of
Mick Jones of the Clash
appears joking about this and that. Owner and chef of Dessert Le Comptoir, Yoshizaki-san worked at hotels in Tokyo then opened his dessert bar in 2010. He wanted to have a space where he could create his desserts in front of his customers, inviting conversation and interaction. He serves only dessert,   complimented with a wine, tea and coffee list. To "go out for dessert" and spend two hours here felt like a true luxury.
We came as a party of four and ordered four different desserts. Here we are sitting along the bar: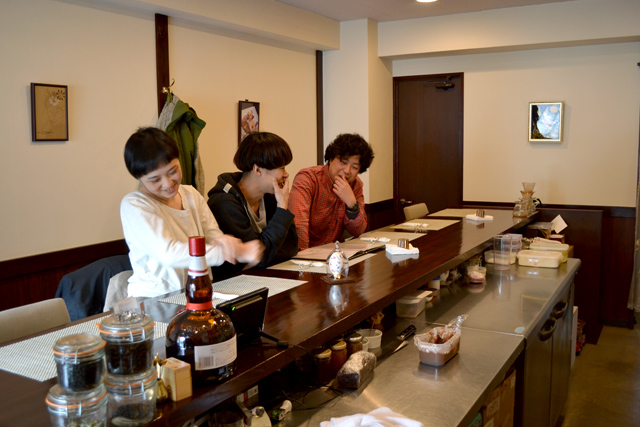 I ordered a cup of pour over coffee to go along with my dessert.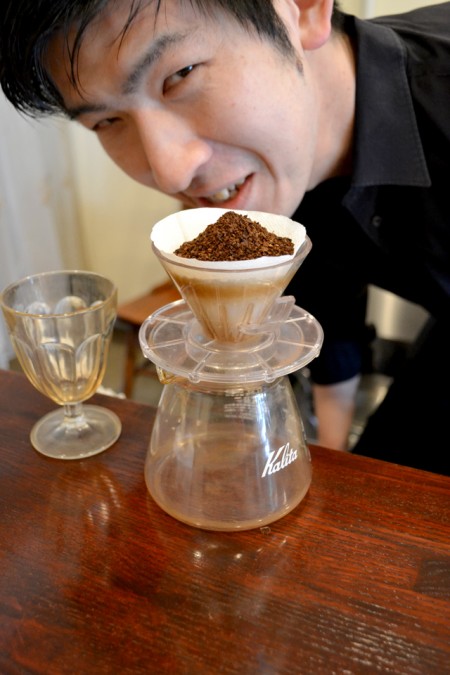 Yoshizaki-san couldn't resist sneaking into the photo.
Looks like a muffin top!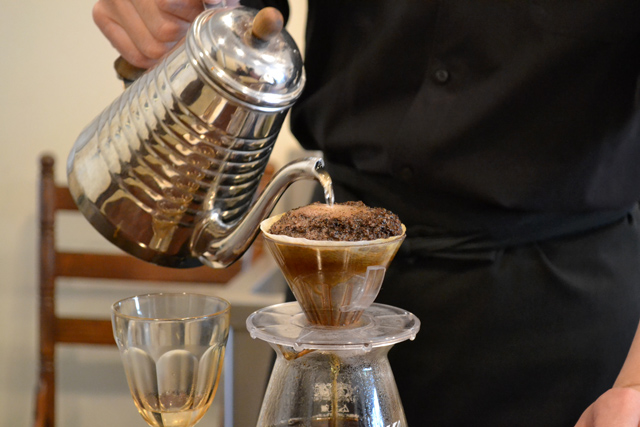 Pouring wine for the rest of the party.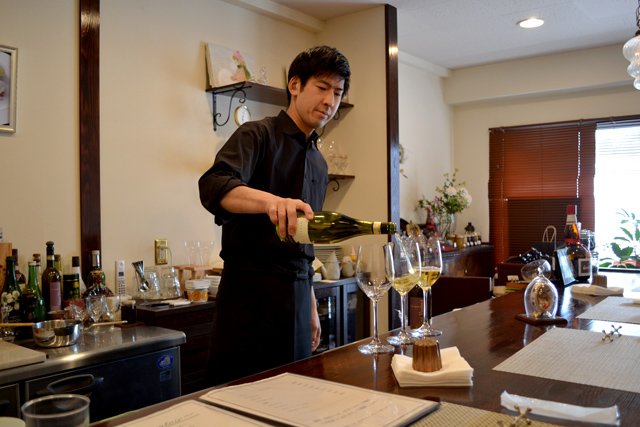 And he promptly begins creating our desserts in front of our eyes.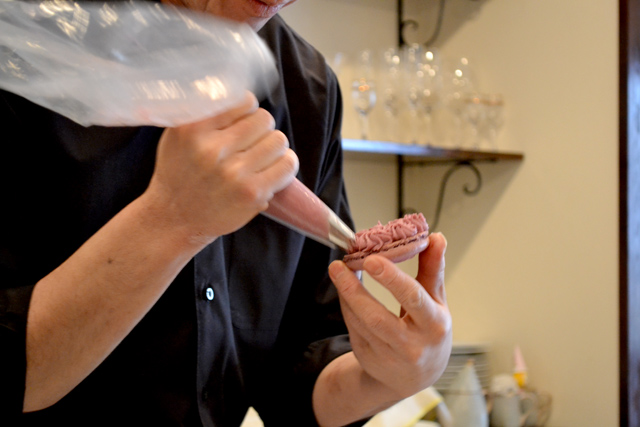 Raspberry Macaron Dessert: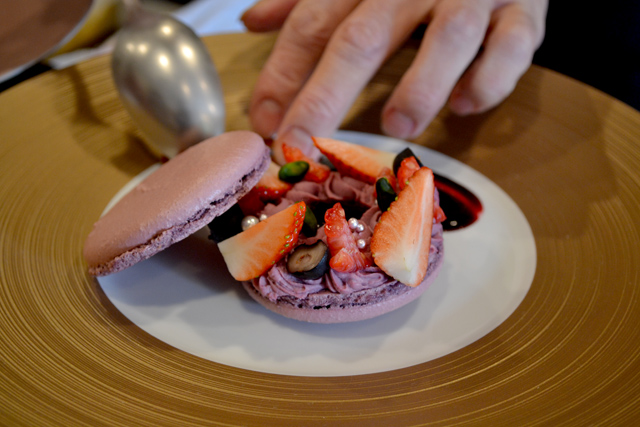 Beautifully vivid raspberry flavors.
Strawberry Parfait: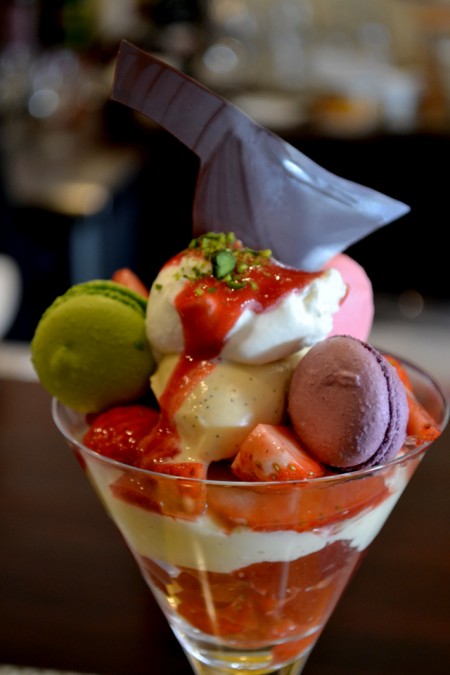 This was a feast for the eyes.
Chocolate Mille-Feuille: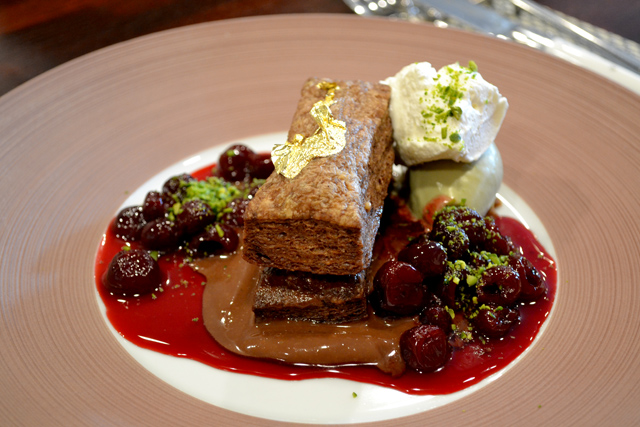 These cherries were delicious and the cocoa he used for the mille-feuille tasted very chocolatey.
Non-Cream Dessert (I sadly don't like whipped cream and egg whites, but I was not sad to receive this tutti-fruitti delight):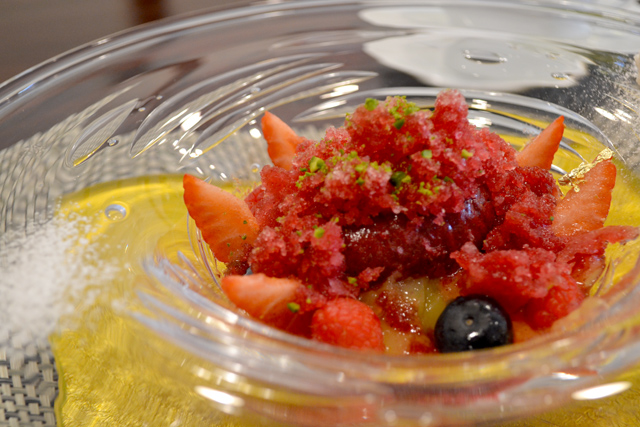 With shaved ice atop a wafer and mango pudding, this was a really refreshing dessert that was perfect because I was semi-hungover.
And at the very end he served us some red wine jellies, vanilla meringue spears and strawberry marshmallows.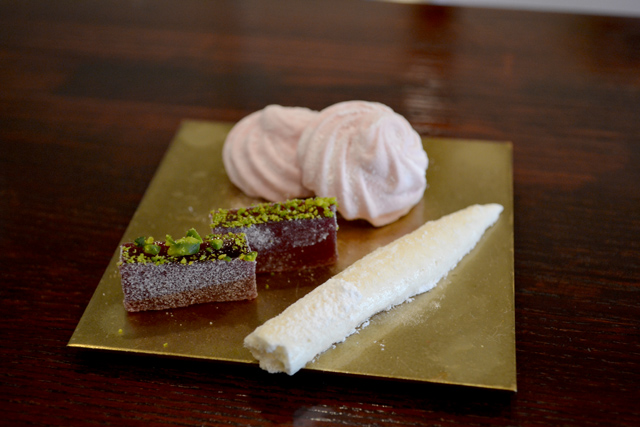 Wow! Everything was so perfect and dainty.
Yoshizaki-san makes everything himself and mans his shop everyday. I admired his dedication and perfectionism, all while keeping a great sense of humor. He even talked about how two years ago when the earthquake hit, he continued to keep his doors open, not thinking it was a big deal. He invited people in the neighborhood for a drink because he said, "There was nothing else to do that day, but work."
DESSERT LE COMPTOIR
5-2-1 Fukazawa
Setagaya-ku, Tokyo
T: 03-6411-6042