Event Recap: Umami Mart Grand Opening Party
Photos by Erin Gleeson
After weeks of painting, building, going to Home Depot five times a day (ugh), sleepless nights, banh mis for breakfast/lunch/dinner, pestering our friends and families (are you done with that project yet? Can you cut wood for us? Can you polyurethane the floors?) -- UMAMI MART HAS LANDED!
To celebrate, we did what we do best: throw a badass motherfuckin' party.
We've landed in a sweet brickface building right on Broadway, in the historical Old Oakland neighborhood. Thanks to the
popuphood
initiative, we have this space to us for six months rent-free!!! We hope to stay longer, but we are so grateful for this opportunity.
We kicked off the evening with a traditional
kagamiwari
ceremony, which is to break open a cask of sake. It symbolizes a new beginning -- the beginning of a new era for Umami Mart!
Me + Yoko, holding our hammers.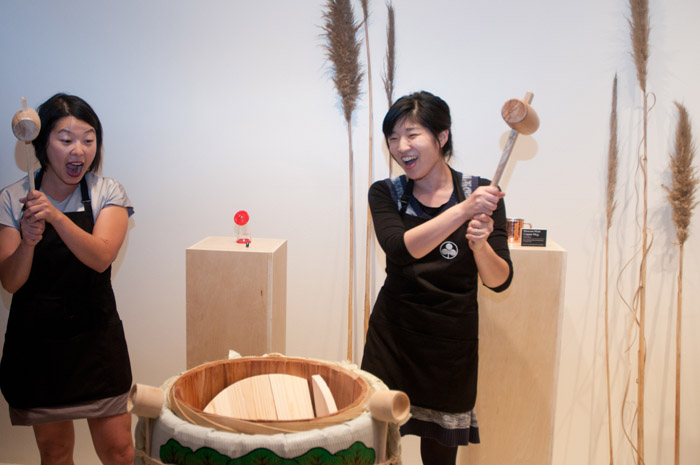 It broke!
Happy dance
We still can't believe it actually broke
Sake serving time
The sake was generously provided by ShoChikuBai, and we had many other Takara drinks as well.
Tracey and Washi
An Umami Mart party would not be complete without Neyah White and his Yamazaki whisky highballs.
The party was hoppin inside and out, all night long.
Our great friend Conrad (middle) and the Gypsy Swing Combo.
We couldn't serve all this alcohol and keep our guest hungry, could we? No fear!
Kid Skwid aka Brother is on it! 
Corn, shishito + okra on the grill
Yakitori time
Johnny + K.

Barware
Allison! 
Jorge + Fumiko
Poached nectarines in a magical sauce

Yoko + Anders + me 
 (photo by Anders)
Aunt Judy filling up
Shochu keg, ice bucket and water pitcher set
By the end of the night, there was not one drop of sake or whisky left. The yakitori had been long dusted. It was definitely Oakland's party of the year. Yoko and I will never forget it!
Thank you to everyone for coming out! It was so wonderful to meet so many of our loyal readers and supporters throughout the years. Umami Mart started out as a hobby -- a little food blog in the internet galaxy and now, it's an actual, physical store. IRL! It's a dream come true for us, and we couldn't have come this far without your support.
And a huge thank you to those who worked with us from beginning to end -- during the planning phases, the build-out, all the way up to the moment we opened the doors.
THANK YOU
.
Keisuke Akabori
Anders Arhøj
Mike Brandeberry
Nicole Buffet
Martha Chong
Jay Dion + Rie Hirai
Devin Farrell
Sarah Filley
Erin Gleeson
Gypsy Swing Combo
Tamara Hathcock
Kazuko Hayama
James Kirkpatrick
DM Kishi
Mike Kross
Kaoru Kumano
Norma Listman
Cindy Liu
Johnny Lopes
Joe Perez-Green
popuphood
Selection Massale
Conrad Seto
Koa Stephens
Takara Sake
Tyler Vogel
Shinichi Washino
Neyah White
Yamazaki Whisky
WE DID IT! Let's keep the party going forever.
Detailed photos of the shop coming next week so stay tuned!