Kuishinbo: Easy Homemade Mirin
I'm sure Umami Mart readers know about
mirin
and have used it in cooking, but may not be sure about what it is exactly. Culinary experts in the U.S. believe that mirin is a mix of sake and lots of sugar. Sadly, this is incorrect. Yes, it's sweet, but not just syrupy sweet -- mirin is full of amino acids aka umami.
Mirin is an aged condiment that uses rice-
koji
, sweet rice and shochu. During the aging process, the kome-koji enzyme from the decomposing sweet rice makes amino acid and various glucose, lactic acid, citric acid etc. These impart complex umami sweetness to the food. Sound complicated? Mirin is shockingly easy to make at home. Just prepare the right ingredients and let the rice-koji do its work.
Let me show you how to make mirin.
INGREDIENTS
15 oz rice koji
2 cups of uncooked mochi rice; cook with 1.5 cups of water
1 bottle (750ml) of 35 proof shochu; I used Takara Shochu
1 large glass jar
METHOD
1. Cook sweet rice. Put the cooked sweet rice in the jar and loosen the rice well.
2. Add one whole bottle of shochu and lightly mix.
3. Check the temperature, make sure mixture is under 140˚F (koji's enzyme will die if it's too hot), if it's hotter than that, wait until it drops under 140˚F.
4. Add the rice-koji and lightly mix.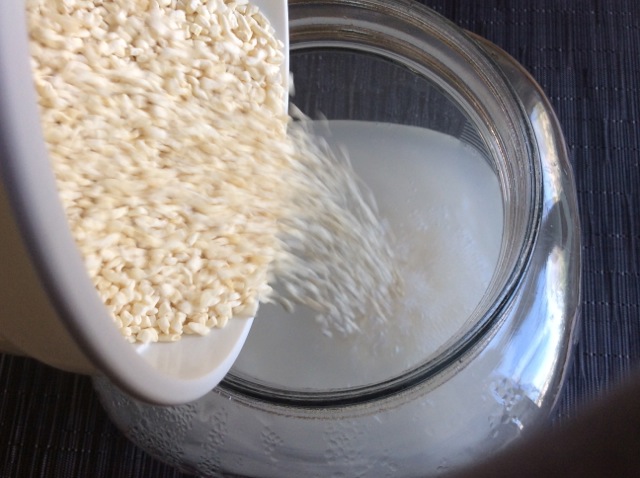 5. Stir and make sure the rice, koji, and shochu are mixed well together.
6. Put the lid on the jar and place the jar in a cool dark place like a pantry corner.
Wait 3 to 6 months until the liquid color becomes an ivory-brown color.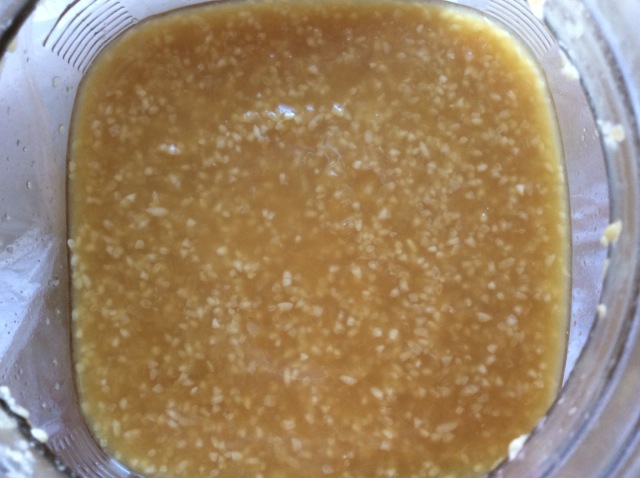 Strain the mixture, separating the by-products (
mirin-kasu
)...
... from the liquid (mirin):
You all know how to use mirin for cooking, so let me share how I use mirin-kasu. Mirin-kasu is full of flavor, like rich
amazake
. You could use it for your cooking, or even by itself as a sweet. Be warned, mirin-kasu contains alcohol. It tastes like rum-soaked raisins -- umami-rich sweets for grown-ups! I love it with fresh strawberries.
Also mirin-kasu is an excellent way to marinate meats, like pork.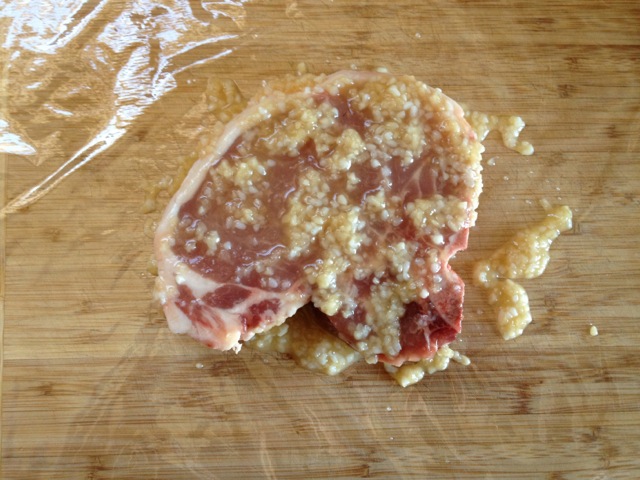 Marinate for a few hours, at least over night to couple of days! I love marinating meat for a long time, it becomes so tender!! Grill and serve with sauteed mushrooms and a watercress salad!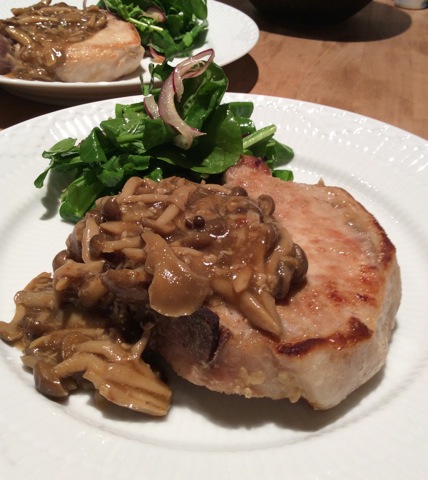 I hope you enjoy the REAL mirin and the magic of umami!