The Vin Vivant: Fat Belly, Tiny Bubbles
When Old Man Winter's icy digit stops mercury from rising, I am reminded of a traveler I met in Argentina, a Canadian middle-school teacher who once ran sled dogs. It was so cold in Saskatchewan that when he and the dogs returned to their cabin after a day of skittering across the tundra, he dropped a stick of butter into each of their doggie dishes along with their supper. If you've ever been famished after swooshing down ski slopes or by merely existing on a freezing day, you'll know that extra fat can do wonders for your disposition.
Thus on a high of 17˚F day in New Hampshire, I felt intensely justified when I put braised pork belly on our Christmas Eve menu. We were spending the holiday in Chris' home village, a bucolic rural town embodying Yankee Yuletide that gets a taste of Chinese home cooking when we visit.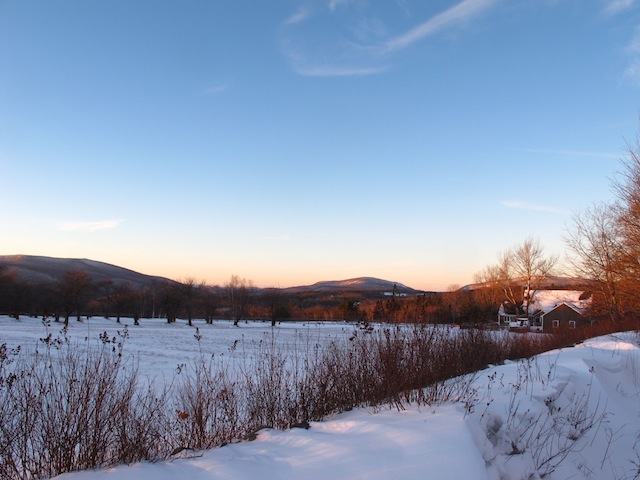 Another reason why I put this dish on a holiday menu is it goes extraordinarily well with sparkling wine, a type of wine that you truly can't have enough of in one lifetime. Drinking bubbles is like putting together an inspired new outfit: life just feels rife with possibilities. A friend who is now a sommelier at The Lambs Club in New York turned me on to Champagne with Chinese food years ago and I've been hooked on trying more sparklers with Asian dishes ever since.
Fat and effervescence were made for each other and a carefully chosen Champagne or sparkling wine can last through an entire meal, not just as an aperitif or with a first course. You might consider pairing a dry, citrusy, mineral-laden sparkler such as Prosecco with seafood dishes or mildly spicy ones. Fuller bodied vintage pours that develop an elegant nuttiness in the bottle can tackle cassoulet or a beautifully seared culotte steak.
For this dish, we went with the Covides NV Cava Gran Gesta Brut Reserva that a wine clerk at
Vinodivino
in Brookline, MA, recommended for its yeasty bouquet and its ability to compliment a complex, rich dish like
Muy Choi Kau Yuk
, a traditional Hakka dish.
I came equipped with two bags of dried mustard greens purchased in San Francisco's Chinatown:
We ended up adding about one-quarter of this un-marinated version:
You can find these salt-cured greens in well-stocked Chinese markets or dry good stores. If you can only find the marinated version, simply cut the amount of soy sauce you put into the dish. Be sure to wash the greens thoroughly as stipulated in the recipe below; I gave them six changes of water for good measure, squeezing out the water after each washing. I also cut the pork belly into 1/3-inch-thick slices before cooking so the flavor would permeate the meat over the course of a shorter cooking time, one and a half hours down from the recipe's three. All modifications I made are noted along with the original directions.
RECIPE
Mui Choi Kau Yuk

Preserved Vegetable with Fresh Bacon
Adapted from The Chinese Kitchen by Eileen Yin-Fei Lo
INGREDIENTS
1/4 pound preserved mustard greens
2.5 pounds fresh, uncured bacon in 1 piece
2 quarts cold water
5 ounces sugarcane sugar or brown sugar
3 tablesoons
Shao-Hsing
wine or dry sherry (I didn't have either on hand so I used brandy instead)
1 cup mushroom soy sauce
METHOD
1. Cut the pork belly into 1/3-inch-thick slices before cooking.
2. Wash the preserved vegetable carefully and thoroughly to remove sand and salt. Remove each stalk, open the leaves and wash 4 times. (I did this 6 times, 6 being my lucky number. I also diced the greens.)
3. In a large oval Dutch oven, place all the ingredients except the mushroom soy sauce. (As I sliced the pork belly, a round Dutch oven worked just fine.) Bring to a boil over high heat. Add the mushroom soy sauce and return to a boil. Cover the pot, reduce the heat, leave the lid cracked, and simmer for 3 hours. (I simmered for 1.5 hours.) Test the back with a chopstick: If it goes easily into the bacon, it is done. If not, cook for another 30 minutes to an hour. When the meat is done, allow the pot to cool.
4. Remove the meat and vegetable to a large plate, allow to cool to room temperature, cover and refrigerate for 8 hours or overnight. Reserve one cup of cooking liquid. (Save the rest in quart containers for a noodle soup base.)
5. Remove the vegetable from the plate, cut into 1/8-inch slices, and make a bed of these in a steamproof dish. Slice the bacon across into 1/3-inch slices. Reassemble the slices atop the vegetable. (I didn't do this part since exactly as instructed since I'd already diced the vegetables prior to cooking.) Coat the bacon with the reserved cooking liquid to give it a dark coating. Place the dish in a steamer, cover, and steam for 30 minutes. Turn off the heat, remove from the steamer, and serve with cooked rice.
This dish is best prepared the night before and requires minimal active time, another reason why it is an appropriate dish for a crowd over the holidays. If you are in a cold climate, you can leave the pork on the stove in the liquid it cooked in -- the next morn, you'll witness a still life of pork belly floes amongst solidified fat that you can easily scoop away.
Be sure to protect your delicious pot of pork belly with a stern head-scratcher of a warning.
Save the braising liquid as a noodle soup base that you can dilute 6-7 times with water or to your taste.
I'm happy to report that the belly and bubbles were amazing together -- as the clerk said, neither food nor beverage overpowered the other. We didn't get the rising bread dough scent that he mentioned but sniffed out a touch of under-ripe melon and apple. It was fruity but not cloyingly so. The bead, a term for the clusters of tiny bubbles that float to the surface of a sparkling wine, was very fine for a bottle in this Cava's sub-$20 price point, which also helped offset the pork fat and made every sip feel refreshing, not filling. Best of all, it also paired well with the other dishes on the menu: steamed tilapia with ginger-scallion sauce, stir-fried spinach with garlic and Beijing-style tomato, egg and cilantro dumplings (bubbles also go amazingly with eggs).
With "Cheat Meal Month" drawing to a close and resolutions on the way, pair a rich meal with sparkling wine -- you deserve it!
*Raised on beef oatmeal and the logic of using chopsticks instead of a whisk, Audrey's earliest exposures to eating and cooking extend to the present where she finds joy in discovering novel food and beverage pairings. She lives in the San Francisco Bay Area with her home-brewing turophile husband and their collection of kitchen gadgets, bicycles and wine maps.