MOTOism: Moto Sensei, Cooking Class Teacher
If this is posted on 10/30, it means I survived Hurricane Sandy.
My friend Chisa told me numerous times that I should start teaching cooking lessons. I was a bit skeptical in the beginning, and didn't have time to think about it. Now I have time to think, and to do, so I decided to give it a try.
As you may know, my cooking doesn't come with exact recipes, since eye-balling is my forte. But I can't teach students the, "a little bit of this, little bit of that" style. Exacting each recipe was a bitch but was a good learning experience. Instead of pouring soy sauce directly from the bottle, I used measuring cups and spoons and tasted to make sure each amount is correct. I don't think I can ever become a recipe creator, though.
Prepping for the day was very stressful. I practiced everything in my head many times, and the recipes I chose are ones I am most comfortable with -- but I had no idea how long it might take, or how to deliver points to my students simply.
And the day came.
Important thing is to have all your equipment ready. I don't like Rachael Ray's style, always searching for utensils, pots and pans during the cooking. I carefully thought about which pans and pots I needed.
Though it would be ideal to have students participate in the process, I've been cooking all by myself for such a long time, and it was hard to create recipes that are participatory. So I decided 80% demonstration, 20% participation. Hence two new cutting board for students -- important investments.
Having an
IH cooktop
is very useful in these occasions. Students can look into what's cooking inside the pot very closely, without coming around to the stove.
It's also important to have a pretty table setup for eating. I arranged some dubiums and roses with greenery in a wide vase. I need to buy more placemats.
The Menu
Amuse Bouche: Pickled lotus roots topped with green pea and roasted garlic puree, pan seared duck breast with sliced apples
Soup: Butternut squash potage with crispy ravioli and truffle oil
Main: Soy maple syrup marinated salmon wrapped with potato, Israeli cous cous risotto
Dessert: Deconstructed berry tart, sweet chestnut cooked with its skin
Here is Moto Sensei with students.
It was very educational for both me and my students. Things I didn't think are a big deal were pretty eye-opening for my students, and I realized how valuable my little secrets can be. Everyone asked what I use to clean my All-Clad, and they never heard of
Bar Keepers Friend
, which I thought was funny. I thought everyone knew about it!
It's also important to have your prep work staged. For example, making sweet chestnuts cooked in its skin requires a long time. After removing the hard shell, you need to cook chestnuts with baking soda three times to get rid of bitterness.
In order to cut time, I pre-made them and showed it to my students so that they could see how the colors and textures change after all the cooking time.
I also used some store bought items. Home cooking sounds like everything should be home made, but that's just too much. For the potage, I topped with butternut squash ravioli to make it prettier, more professional, and add one more texture to soup, which sometimes sounds boring.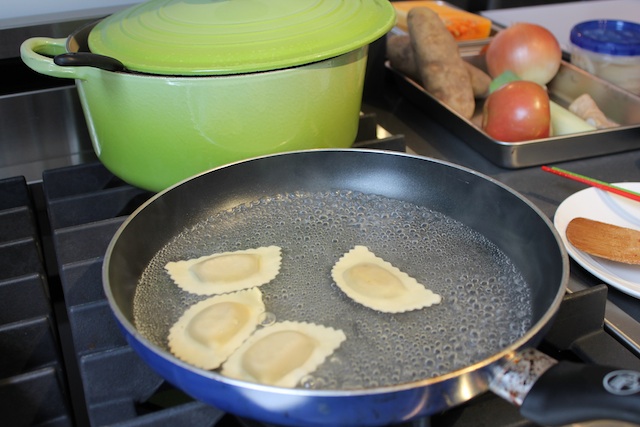 Main dish was the participatory recipe. Peeling potatoes may have been too advance (since they have to be super long and super thin), so I showed them how to do it.
Toss the potato with oil, salt and pepper very gently so that you don't break the potato.
The salmon had been marinating for two days.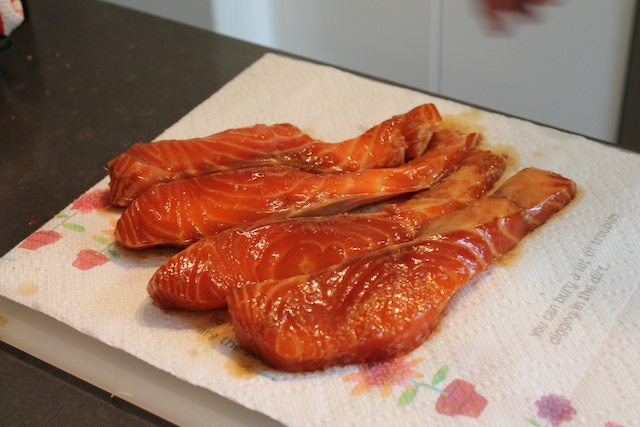 Another cooking class tip: schedule classes so that you marinate your ingredients in one class and use them at the next class, to minimize the waste (or me eating salmon for like five days).
Salmon is wrapped with potato slices. This reminds me of my
broken leg cake
. This gives the fish a more professional appearance, yet it's not that hard to do. Also, the potato slices act like a blanket for the fish and keeps the flesh pretty moist even if you accidentally overcook it.
Moto Sensei is teaching how to wrap the salmon in the potato slices.
It's also good to have something very easy to make. This duck recipe is extremely easy, and you actually want to marinate for a day or two, so you can just slice it at the class and serve.
Duck and apple goes very well together.
Now, the cooking is done. Plating is also a very educational part of cooking classes, so I invested in some cute stuff (discount department store's home section is perfect for these kind of serving wares).
Here are the final products.
Amuse Bouche
Soup
A sprinkle of chive and a drizzle of truffle oil makes an ordinary soup extraordinary.
Use salmon marinade as sauce. Also add a bit of green on plate for extra color.
Deconstructed berry tart is served in shot glass. A bit pretentious, but people thought it was a good idea. Ass-chap glass is a crowd pleaser.
This was a good experience. Many of the students also go to other cooking classes, and they gave me good ideas and suggestions for the future. The downside is that I can't handle strangers stuffing my dishwasher, or washing pots/pans, hence I am left with literally piles of dishes at the end. Some cooking classes make you clean up as well, but I don't think that is my style.
This class was targeted for Japanese people, but I also want to start a class for Americans, and teach some basic Japanese cooking. Stay tuned.
*If you would like to attend MOTO Sensei's cooking classes, contact him at questions@motocs.com or visit his website