Umami Mart Map: The Chronicles of Nagoya
Instead of reaching there via a Wardrobe route,
Nagoya
is about a two-hour bullet train ride from Tokyo. It is the third most populous city in Japan, with 2.3 million people living within 11 square miles.
Car geeks may know Nagoya as Toyota HQ. Gamblers may take note that it is where pachinko was born. But to me, Nagoya is where I get my street food fix.
Kayoko and I planned on going to Kyoto for two nights, but since we'd both been there collectively about 10 times, we decided to sacrifice one night in Kyoto for a night in Nagoya.
Best idea! And of course, we chronicled each and every meal. And took a photo with Nagoya's mascot, Hachimaru. Everyone wins!
UNAGI NO FUKUZUCHI
1-22-16 Sakae Naka-ward, Nagoya 460-0006
2 minutes from Shinsakae Station Exit 2
TEL: 052-931-2925
I first visited this place back in 2008 when I lived in Japan. It's really crazy that I didn't remember THIS: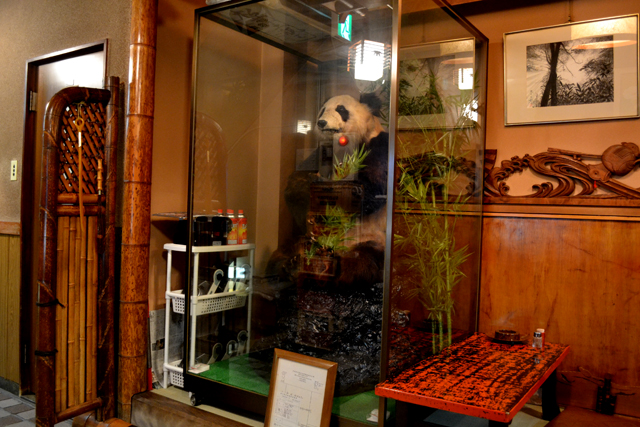 I'm telling you, it's hard to ignore...
We started off with
uzaku
, an unagi appetizer. Grilled eel rests on top of a bed of cucumbers, then dressed lightly with a dashi-vinegar mixture.
The first time I ate this, I found it so novel because it was essentially a salad. I had never had unagi that was supposed to be "refreshing", but it was light and summery. The unagi here was just as I remembered it, so tender it melts in your mouth, with no hint of rubberiness. Grilled to perfection.
Next up is the
koi
(carp) sashimi.
This gets served on ice so that the sashimi remains taut and fresh. The texture is firm, but really great considering how rich the sashimi tastes. The richness is complimented by a miso sauce for dipping.
And the main event:
hitsumabushi
. This is a meal fit for Aslan himself. For about $30, you get a deep laquered bowl packed with rice and topped with grilled eel.
The best thing about this meal is that it's a long, drawn out process. First you can try the unagi with rice and the condiments they serve alongside the bowl: green onions, wasabi, seaweed, pickles, etc. Then when you are ready, pour some warm dashi broth over the mixture of rice and unagi for a calming finish. Adding the dashi element, really mellows out the taste, and brings a different interactive element to the meal.
I am so impressed by how web savvy this little place is! They have a very upscale website
here
.
AUTHENTIC BAR KREIS
1-4-12 Sakae, Naka ward, Nagoya 460-0008
1 minute from Fushimi Station Exit 7
T: +81 52-231-3223
Nagoya is set up like a grid, for easy navigation. But the wide streets and long blocks can fool you into thinking that things are much closer than they seem. We needed the exercise, but my feet did feel weary after walking from Unagi no Fukuzuchi to Bar Kreis. We walked straight down Hirokoji street toward Fushimi Station.
We wanted to visit Bar Kreis partly because we heard that you can order sushi from the sushi spot downstairs. Unfortunately, we were so full from the unagi, that we couldn't follow through with our dreams of "nigiris and negroni", but we saw it happening once we sat down at the bar. A sophisticated lady, ordering $20 cocktails sat on my side, while a couple of suited men in deep discussion sat on Kayoko's side munched on sushi.
We were front row and center to watch the bartender and owner, Haruhisa Tahara. Professionally dressed in his white suit, Tahara-san's bar had great tools and glassware. What I really liked about Tahara-san was that even though he didn't talk that much, he was friendly and flashed his boyish smile at every chance. When it comes down do it, I can't take too much seriousness when I'm drinking and I really appreciate Tahara-san's ability to be focused and friendly at the same time.
I ordered a rum raisin cocktail because I had read that he soaked his raisins there. I must have thrown him for a loop because he wasn't totally sure he heard me right. He ended up making a very refreshing rum-based rum raisin cocktail with some blended ice.
I love rum raisin ice-cream, and this tasted like rum raisin sorbet. Nagoya was hot, and this was the perfect dessert. Tehara-san was kind enough to share his recipe for this drink with us over email:
25g Raisins soaked in rum
15ml Dark rum
10ml Cherry heering
30ml Orange juice
Method: Run rum-soaked raisins and orange juice through a blender. Add them to the rum and cherry heering in a cobbler shaker and SHAKE!
Sadly, after one drink, I could not seeing myself last much longer in the land of wakefulness. This chapter ends for now, but we will be back at Bar Kreis for our next Nagoya adventure.
KOMEDA COFFEE
Sakae Station: Aichi Nagoya Sakae, Naka-ku, 4-chome, 16-10
TEL: 052-485-9267
According to tales of yore, Nagoya offers free toast. The tale goes that if you order coffee, toast and a hard-boiled egg will appear like magic. For free!
Well, the coffee is 500 yen (around $5), but still. Getting a whole meal when you were only expecting coffee is a real nice surprise.
We went to Komeda Coffee, which is a coffee shop chain that originated in the Nagoya area in 1968. Although there are now 552 Komeda Coffee shops across Japan, it seems to be somewhat of a cult favorite.
The coffee comes in an 8oz ceramic cup with just enough coffee to get you going. The "sides" are half a piece of toast (we got two coffees, so this photo shows two portions) and a hard-boiled egg. The toast is fluffy and perfectly toasted. We ordered a side of red-bean paste to spread on the bread. It was sinful! Like syrup on pancakes.
Visiting a coffee shop for breakfast in Nagoya is a must if you'd like to see the locals do their thing. From chattering school girls to older men sipping their coffee alone, the atmosphere was friendly and relaxed.
MIKOEN
Kato Building 1F, 3-13 Shinsakaemachi, Naka Ward, Nagoya
5 min from Sakae Station Exit 13
T: +81 52-954-1886
"Taiwan Ramen" was first served in the 70s as a staff meal at a Taiwanese restaurant in Nayoga. Pretty soon, the approving slurps of the staff and the aroma of chili oil must have been too tempting for customers, as they asked the cook "I want what they are having."
That is how this unassuming noodle dish started to permeate throughout Nagoya's Chinese restaurants. Taiwan Ramen is only available in Nagoya or Nagoya-themed Chinese restaurants. Ramen noodles are topped with bean sprouts, ground pork and chives. The version that we had at Mikoen had included some very harmless looking clear soup. But upon one sip, it was clear that this was SPICY. A wolf in sheep's clothing.
After days without any hot spices in our meals, Taiwan Ramen was SO satisfying. The breathe-from-your-mouth-heat and down-and-dirty ground meat was a pleasure to eat.
Of course, we couldn't resist ordering some DUMPS.
Pretty soon, we were smoking pipe dreams of Umami Mart in Taiwan. Even though (let me clarify again that) Taiwan Ramen is not actually Taiwanese.
We split a bowl of noodles and the dumplings and the bill came out to be under $15. It was really challenging to split everything, but we had to save ourselves for the next meal...
YABATON
3-30-1 Sakae, Naka Ward, Nagoya 460-0008
5 min from Yabacho Station Exit 4
TEL:+81 52-262-8830
We split the ramen and dumps, but our next adventure required us to lighten out load. Our load was not of the noble sort, i.e. swords and shields, but a complex soup of toast, coffee and noodles in our stomachs. Onward to
Yabaton
, Nagoya's most famous miso-katsu restaurant!
It was another hot day in Nagoya and we huffed and puffed our way across town to Yabaton headquarters near Yabacho Station. It was nearing 12:30pm and we had to catch a 2pm train. Time was tight, so we wanted to eat and run. But, the stars were not aligned as we were confronted with this:
After drooling over the menu for a few minutes (with a zoom lens, this photo may have captured the actual drool), we made a very sensible decision to leave this one for the next adventure in Nagoya. If you can't wait that long, please read my write up of Yabaton from 2008,
here
.
KISHIMEN SUMIYOSHI
JR Nagoya Station
T:052-581-6831
After hustling over to the JR station with all of our luggage and making the Yabaton miso-sauce sacrifice, we could breathe easy as far as the schedule. The little secret I haven't divulged is that when we made the sacrifice, we justified it by vowing that this would buy us some time to eat
kishimen
at the station.
Kishimen
is another Nagoya treat -- flat, shiny noodles that are most often eaten at the platforms of train stations. For under $5, you can get a bowl of hot or cold noodles with all kind of toppings.
Kishimen
fits under the udon family of noodles as they are made from wheat flour. The flat noodles are a breeze to slurp, and the texture a hair softer than al dente. I got plain
zaru kishimen
, to experience the noodles with the least distraction.
Kayoko got the
sansae kishimen
or mountain vegetable kishimen. The broth is light and soy-sauce based with some mirin.
This meal was probably one of my favorites from the trip. The execution was quick and I felt really refreshed after eating it. There is still so much to discover about noodles in Japan.
I was very pleased we added the Nagoya chapter to our trip this time. People outside of Nagoya talk about the city as an afterthought for sightseeing. But when you ask them about the food, most people say things like "unusual, weird, miso-heavy, rich." All good things. So the next time you are darting across Japan, perhaps from Tokyo to Kyoto, think about stopping into Nagoya, even just to hop out onto the platform for a kishimen fix. This is certainly not the Last Battle I will be having with Nagoya.
Check out our
Umami Mart Map: Nagoya
on
Google Maps
:
Where to sleep in Nagoya:
The B
. All our eats and drinks were within walking distance from the hotel, in the Sakae neighborhood.